Trugoy the Dove of De La Soul Dead At 54
The rapper left an indelible mark on hip-hop.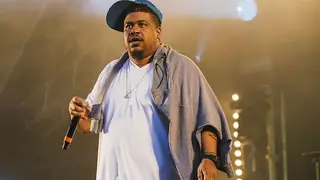 David "Trugoy the Dove" Jolicoeur, a co-founder of the groundbreaking hip-hop group De La Soul, passed away at the age of 54, as confirmed by Rolling Stone.
De La Soul's unique sound and style, which blended elements of jazz, funk, and soul with socially conscious and playful lyrics, quickly set them apart from other hip-hop acts of the time and established them as pioneers in the genre.
Their 1989 debut album 3 Feet High and Rising was a breakthrough success and is now widely considered a classic of the genre. The album was praised for its innovative production techniques, including the extensive use of samples from a wide range of musical genres, and its playful and thought-provoking lyrics. De La Soul's distinctive image and style, which emphasized positivity and creativity, also set them apart from gangsta rap which dominated the charts in the late 1980s and early 1990s.
Over the course of their career, De La Soul continued to release critically acclaimed albums and experiment with new sounds and styles. They collaborated with a wide range of artists, from rappers and DJs to rock bands and jazz musicians, and remained dedicated to pushing the boundaries of hip-hop music. Their influence can be heard in the work of many later hip-hop acts and their music continues to be celebrated by fans and music critics alike.
In a video posted to Instagram in 2018, Trugoy said that he has been battling congestive heart disease and admitted that he was having a difficult time adjusting to his inability to perform. 
"I'm ready just to get back to the stage," he said. "I miss that. I love traveling. I love being around my guys and I want that back."
Most recently, De La Soul made news when it was announced that the group's music would be available on all streaming platforms on March 3, 2023, on the 34th anniversary of the release of their debut album, 3 Feet High and Rising. Shortly after that announcement,  Trugoy was noticeably absent from the group's performance at the 65th Annual Grammy Awards' Hip-Hop 50th celebration.
David "Trugoy the Dove" Jolicoeur will always be remembered as a pioneering figure in the world of hip-hop and a beloved member of De La Soul. His contributions to the genre and his impact on music and culture will be felt for generations to come.
You can catch "REST IN POWER" tribute blocks featuring all DE LA SOUL music videos on both BET Jams & BET Soul channels through Monday.