'The Woman King's' Fight Choreographer Shares How She Got Viola Davis and Crew Ready for Battle
Stuntwoman Jénel Stevens on martial arts training, mental toughness, and why men in the street don't mess with her.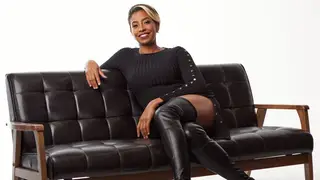 Audiences and critics alike are all raving over The Woman King. From the outstanding direction by Gina Prince-Bythewood to the out-of-this-world performances from Viola Davis and the supporting cast of John Boyega, Thuso Mbedu, and Lashana Lynch, The Woman King offers a lot to love and a lot to marvel at. Yet for all the stunning action the film captures on screen as it tells the story of the female warriors who protected the West African kingdom of Dahomey in the 17th through 19th centuries, much of its most remarkable moments come courtesy of someone viewers don't see: the stunt woman Jénel Stevens.
Stevens, whose body of work includes stunt training on Black Panther, The Avengers, Luke Cage, and much more, is one of very few professional stunt women in Hollywood and even fewer Black women in a specialized field that only recently has become more inclusive. For a long time, male stunt performers in wigs would serve as women on screen, and Black stunt performers can thank a certain disgraced TV icon for demanding Black stunt performers back in the 1960s as opposed to white stunt doubles in blackface, which was custom at the time.
Stevens' personal history of scuba diving, horseback riding, skiing, skydiving, and other intense, fast-paced activities made her naturally ready for a career as a stuntwoman; working as a trainer and martial artist led to a friend hooking her up with an opportunity to work on Mysteries of Laura. She was all in after that, and now is one of the leading stunt performers in the world. Working on The Woman King, Stevens got the chance to be part of a history-making epic by and about Black women––women who are tough, tender, and taking names after they kick some serious ass. "A lot of women don't know that this is possible," she says from a hotel in Cartagena, Colombia, where she's hard at work on another top secret movie project. "But I think it's changing rapidly. There are a lot of up-and-coming Black women in the industry. This is possible, and it's empowering."
Of course, the work may look easy, but it ain't. The Woman King required the team to spend six months with Stevens––some of the work happening before even a single frame was shot. Stunts demand maximum safety precautions, and for actors like Davis, loads and loads of preparation so their bodies can handle all the rigorous physical exertion that's ahead, and so they don't get injured. "They were they were all ruthless," Stevens says of Davis and the rest of the women who had big fight scenes. "They didn't want to stop. We'd be like, 'Ok, you guys are good for now.' And every single one of them was like, 'We want more!' Viola. Oh, my God. I was like, 'You don't have to be a hero. You can take some water breaks.' But they were all wanting to keep going which shows on film. I'm very proud and happy to have seen that progression that they went through."
To get the women of The Woman King into literal fighting shape, Stevens put them through a regiment that included jujitsu, the Filipino knife fighting style known as Kali; Chinese Wushu, as viewers clearly saw in the film, lots of machete and staff work. Training and rehearsals often went on for eight hours a day, every day; during shooting, temperatures would get up to 90 degrees or more under the South African sun. "That African sun was brutal," she says. "Even if it wasn't shining bright. But the more you're in shape it's not as taxing as it was in the beginning." Much of her work, she says, is mental: even Davis and her co-stars found themselves surprised to discover that they were nailing certain moves they didn't think they could initially.
"If you don't have it up here," she says, pointing at her head, "you can't transcend it into your body, it has to be one and the same. So just the motivation of, you know, encouraging people and telling them they can do it. The best is when you tell them what they're going to do, and they look at you like, 'What?' and then you start, you get them to that point, and they're like, 'Oh, my God, I just did that.' I really enjoy seeing people coming into their own mental fortitude, and realizing that they can do things that they didn't think were possible."
That's why the right scenes in The Woman King look so intense and real: they're the result of hours and weeks and months of devoted practice and education on the part of Davis and company, but especially Stevens. Somewhat surprisingly, she says that during her time in the business she hasn't encountered moments of discrimination based on her skin color or gender––an encouraging sign of progress. She even says she doesn't face much catcalling or harassment from men when out and about on the street which is probably a good thing…for them.
"It's funny, every time I'm with my friends they're like, 'I feel very safe with you.' I must have an aura that says 'Don't mess with me.'"
Spoken like a real woman king.