Steve Harvey and His Wife Marjorie Speak Out Amid Cheating Rumors
The couple have been married for 16 years.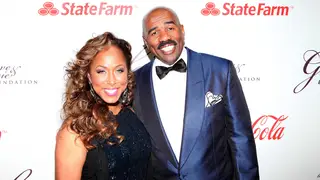 Steve and Marjorie Harvey are protecting their peace while seemingly addressing rumors of infidelity in their relationship.
On Sunday, while at Invest Fest 2023 in Atlanta, the comedian and host spoke out regarding whispers that began last week on X (formally known as Twitter) that Marjorie cheated on him with a bodyguard and a chef. As he took center stage during the event, Steve was captured saying, "Before I get started, just let me say, I'm fine. Marriage is fine."
"I don't know what y'all are doin', but find something else to do cause we fine, Lord have mercy," he said after applause from the audience simmered down.
His wife, Majorie, also voiced her opinion of the rumors on Instagram. In her post, she featured an article titled, How to Handle Being Lied About, along with Bible verse I Peter 2:23, that reads, "When they hurled their insults at him, he did not retaliate; when he suffered, he made no threats. Instead, he entrusted himself to him who judges justly."
For Marjorie, this moment with the Think Like A Man author caused them to step outside the box to hold down a united front as the doting couple they are.
"My husband and I don't usually stop to address all the foolishness and lies that have been spread about us," she captioned the post. "However to whom much is given much is required. I understand that with my platform comes some sort of responsibility to those that may not be as strong as we are. Read and share this with your love ones that may not know how to properly cope. God Bless all of you 🙏🏾😍"
In 2007, Steve and Marjorie exchanged nuptials and welcomed a blended family of their seven children — Brandi, Karli, Broderick, Wynton, Morgan, Jason, and Lori.