Interview: Jonathan Majors Shares What Keeps Him Devoted As An Actor
The cast of 'Devotion' also discussed their new movie that was released on November 23.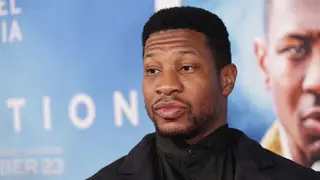 Buckle your seatbelts and prepare for a history lesson as Jonathan Majors is suiting up as late United States Navy soldier Jesse Brown in the new film Devotion.
The film follows Brown and his fellow fighter pilot and friend, Tom Hudner detailing their heroic sacrifices and friendship that would ultimately make them the Navy's most celebrated wingmen.
Brown was the first African American aviator who completed Navy flight training. During the Korean War, the soldier lost pressure on his way to Chosin Reservoir with his squadron and told his team he had lost control after being hit and was losing oil pressure. Hudner decided to crash-land to try and help Brown, who was bleeding out and trapped in his aircraft. With both men understanding the end was near for Brown, Hudner received a final message from his partner, asking him to let his wife know how much he loved her before passing away. Brown posthumously received the Distinguished Flying Cross, the Air Medal, and the Purple Heart.
BET.com chatted with Majors, Christina Jackson, and JD Dillard who share what keeps them "devoted," how they demand respect in certain spaces,
BET.com: What keeps you "devoted" to your craft?
Jackson: Whew, coming in hot! [laughs]. There are so many stories to tell and they're not all good ones, uplifting, spiritual, and loving but through life experiences, there are so many characters I can lend my voice, body, mind, and time which keeps me motivated.
Majors: The world around me keeps me devoted. It's kind of sh*tty out there with people appealing al types of things like Roe v. Wade or affirmative action. I became an actor because of my own personal trials and tribulations which have healed me and that's what acting is for. As long as there's pain within humanity, my culture, children, and the planet, there's something to be done. I know the power of art because it's healed me in many ways and I owe that to my craft as well as the people.
BET.com: During this period, it was tough for a Black man to thrive in careers heavily dominated by white counterparts. As we look at today's time, it's still apparent. As an actor, how do you ensure you remain booked to enjoy your passion while still demanding respect in specific spaces?
Majors: You do the work just like [Jesse Brown]. My mother taught me that I must be bigger, faster, stronger, and smarter. I've built myself in that way. There's a great equalizer in humanity, in art and the more I push myself to be as human as possible, the more roles I'm able to book. Also, I would say I don't give a f*** — I'll go work at Autozone because nobody owns me as I work for myself. I partner with certain companies and individuals that value that and I value them for valuing me which motivates me to work my a** to bring the entertainment we agreed upon.
BET.com: The film's serious tone is one of the elements that help push this story along. As you tell this true story in a reimagined form, what was the end goal?
Dillard: Not to steal my answer from Jonathan, but the goal was to tell the truth — we really wanted to touch on the imprint these men had left on each other and their families. We are guests to each of the family's legacies and want to do them correctly while sharing their stories with a much larger audience.
BET.com: Glen's character says it's good to know the men you're flying with and what they are fighting for. What are you fighting for as you continue to grow in Hollywood and how are you actively reaching these goals?
Dillard: Such a great question, I want to see the breadth of Black wish fulfillment onscreen — I can look at all three movies I made with the common denominator with each of the characters being told what they can or can't do and securing their dream. I want to see that in all shapes and sizes — all levels of scope and scale. To an extent, these are the stories that I will continuously tell as I continue in my career.
BET.com: There's a powerful scene where your character converses with himself in the mirror in what seems to be imposter syndrome, reiterating what his white counterparts may think of him, saying slurs and ultimately getting emotional. Have you ever had a moment in your life where you dealt with imposter syndrome after booking a role?
Majors: My mother and my grandaddy put so much in me that my imposter syndrome may have happened when I was in high school. As Maya Angelou said, whenever I walk into a room, I never feel out of place — may be uncomfortable at times if I don't want to be in a certain place or I may not like the movie I'm watching, but I would say no.
Grab your armor and head to theaters to see Devotion in theaters on November 23.
---
*This interview has been edited for length and clarity
Ty Cole is a New York-based entertainment reporter and writer for BET.com who covers pop culture, music, and lifestyle. Follow his latest musings on Twitter @IamTyCole.