Two Major Stars Endorsed Hillary Clinton for President
Does their co-signing influence you?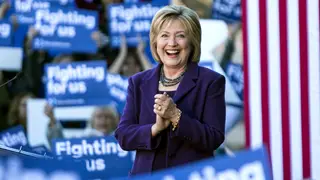 Several celebrities have come forward publicly endorsing certain presidential hopefuls, and Steve Harvey is the latest to add his support behind one of them. According to CNN, the talk show host announced his endorsement for Democratic presidential candidate Hillary Clinton, as he feels she would be the best choice to continue the legacy of President Barack Obama.
"She has fought for social justice, equality and politics that expand civil rights and economic opportunity out there," he said on his Steve Harvey Morning Show, his nationally syndicated radio show. 
Speaking directly to the candidate, he said, "As president, you really plan on building on the progress that President Obama has made to deliver some real results for a lot of Americans, including African-Americans. And I'm endorsing you as my candidate for President of the United States and I just think that you're going to just do the right thing for the majority of the people in this country."
Steve isn't the only public figure who has vocally endorsed Clinton. On Wednesday, Jamie Foxx appeared on stage during her fundraiser at Radio City Music Hall in New York City. 
Clinton's African-American outreach director, LaDavia Drane, tweeted the public endorsement on Tuesday with a photo of Clinton appearing on the Steve Harvey Show.
Clinton and her rival for the Democratic nomination, Vermont Sen. Bernia Sanders, have been competing vigorously for the African-American vote lately, which is one of the Party's largest voting blocs.
Do Steve Harvey and Jamie Foxx's public endorsements influence you? 
Speaking of Hillary Clinton, take a look at what went down with her Kwanzaa avatar a couple months ago in the BET Breaks video, below:
BET.com is your No. 1 source for Black celebrity news, photos, exclusive videos and all the latest in the world of hip hop and R&B music.