Report: Almost Half Of All HBCU Students Facing Food Insecurity
The study, based on student surveys at 14 institutions, also found that finding affordable housing is a challenge.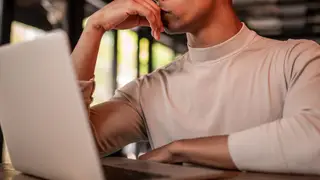 Researchers surveyed nearly 5,000 students from 14 private and public HBCUs in fall 2020 and found that 46 percent of them didn't have enough food in the 30 days prior to the survey. Hunger wasn't the only problem. More than half of the students, 55 percent, said they were housing insecure during the prior year, and 20 percent of them were homeless during that period.
"These numbers speak to something far greater than an HBCU problem or an African American problem," Michael J. Sorrell, president of Paul Quinn College in Texas, said in the report. "These numbers speak to an American problem. One, which if allowed to go unchecked, will compromise the future of too many talented citizens … What are we as a society doing so wrong that our student class is struggling on such a basic needs level?"
According to the report, COVID-19 is partly to blame. "Since the pandemic began, countless college students have lost their jobs, been physically displaced, become hungry or homeless, or experienced other negative impacts," the researchers said. "The challenges disproportionately affect students within urban communities of color, poorly resourced rural districts, and minoritized students—including many of the students that HBCUs serve."
To address these issues, the report recommends connecting students at HBCUs to resources. It calls for an increase of emergency aid to HBCUs since only 38 percent of housing and food insecure students received federal pandemic emergency aid through the CARES Act.
On March 27, 2020, Congress passed the Coronavirus Aid, Relief, and Economic Security Act or, CARES Act. It allotted $2.2 trillion of economic assistance to those people negatively impacted by the COVID-19 pandemic. Of that money, approximately $14 billion was given to the Office of Postsecondary Education as the Higher Education Emergency Relief Fund, or HEERF.
With additional federal and state support, the schools could increase staffing to help students connect to public benefits programs, the report stated, noting that fewer than half of financially struggling HBCU students were receiving any type of public benefits and barely one in five received help from their institution to apply for the Supplemental Nutrition Assistance Program (SNAP).
The study included seven public HBCUs: Fayetteville State University, Grambling State University, Jackson State University, Morgan State University, Prairie View A&M University, Texas Southern University, and the University of Arkansas at Pine Bluff.
Private HBCUs in the study included the following seven schools: Claflin University, Dillard University, Johnson C. Smith University, Lane College, Paul Quinn College, Spelman College, and Talladega College.