Minneapolis Black Business Community Creates Its Own Expo After City's Failed
"This is an opportunity for us to be proactive," local organizer says.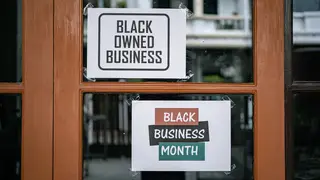 Black-owned small businesses in Minneapolis have decided to organize their own event after losing lots of money at the controversial city planned Black business expo during Black History Month.
Community activist J. DeVon Nolen partnered with two of those business owners, Markella Smith and  Kamillah El-Amin, to create The People's Market, CBS Minnesota reported.
"The loss, the extraction of resources, it evoked all kinds of emotions. It was very painful and it catapulted me into action," Nolen said, adding that creating The People's Market is an act of "economic reclamation."
More than 30 vendors were expected to gather Friday (April 14) in a 15,000-square-foot building to sell their products with the hope of making a profit this time.
Nolen said the event is a reminder that the community has solutions.
"This is an opportunity for us to be proactive and send a message to these entrepreneurs that we care about business in the City of Minneapolis and we want you to be successful," he added.
Smith, who participated in the city's expo, is the owner of The Dream Shop, a dual community space and gift shop. Smith told CBS Minnesota that she and other Black business owners were disappointed when only a fraction of the 20,000 projected shoppers showed up at the city's I Am My Ancestors' Wildest Dreams expo at the Minneapolis Convention Center.
"There was no community there," Smith said. "A lot of community members didn't know about it."
Meanwhile, some of the small business owners are demanding an apology from the city and money back for their financial losses, local station KSTP reports.
There are unanswered questions surrounding the city's decision to hire an out-of-state consultant to organize the expos. KSTP obtained documents showing that the city paid an Alpharetta, Ga., event planner about 25 percent of its $242,000 budget to organize and hire for the expo.
So far, the city has declined to comment on the situation until an audit is completed. However, officials have defended their decision to hire the Georgia firm, saying that the city searched out of state for an event organizer after at least 14 Minneapolis companies failed to respond to its consulting bid.