Megan Thee Stallion Launches Mental Health Resources Website, Focuses On Black Community
The site is tailored for her fans to find nearby therapists, helplines and more.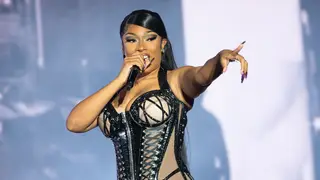 Megan Thee Stallion wants her fans to know that she supports them and their mental health.
Launching Bad Bitches Have Bad Days Too, the new site is meant to provide her fans, who she often refers to as hotties, to have resources all geared to mental health. With links to free therapy, crisis hotlines, and groups that are specially working with the Black community, including therapy for Black women and Black men, the website is a one-stop shop.
An LGBTQ Psychotherapist of Color Directory is also available.
On Sunday (Sept. 25) a Twitter user shared the news and posted a link to the site that also included a message from the rapper.
"Hotties! You know how much mental wellness means to me, so I created a hub with resources that can help when you might need a hand," the 27-year-old wrote.
Bad Bitches Have Bad Days Too, is also a lyric reference from her song "Anxiety" off of her sophomore album Traumazine.
"Monday, Tuesday, Wednesday, Thursday/Bad bitches have bad days too/Friday, Saturday, Sunday, bounce back/How a bad bitch always do," she raps.
Back in 2021, Megan appeared on the Facebook Watch series Peace of Mind with Taraji, to talk about going to therapy and how she once thought that seeing a therapist would make her "weak."
"As a Black person, and when you think of therapy you think of, 'Oh my gosh, I'm weak.' You think of medication and you just think the worst," she said." "That's kind of what you see on TV too. Like, therapy wasn't even presented in the media as something that was good. Now, it's becoming safe to say, 'Alright now, there's a little too much going on. Somebody help me.'"