Bobby V And His Transgender Accuser Will Face Off In Court
And so the drama continues.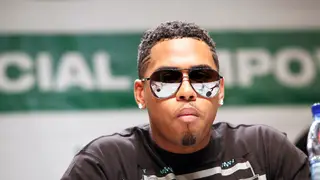 Bobby Valentino's public drama is far from over. Bobby and Reima Houston — the transgender woman who accused the singer of attempting to coerce her into having sex with him — are reportedly gearing up to face off in the courtroom. And something tells us it's going to get a lot messier before it gets any better.
As previously reported, Bobby's legal team filed a suit against Houston, claiming she was guilty of extortion. The "Mrs. Officer" singer alleges Houston took an unauthorized video of him during their late-night encounter, and when he asked about it, she threatened to release it on social media unless he paid her several thousand dollars.
Houston previously spoke to BET exclusively, in which she divulged her side of the story. She detailed her first meeting with Bobby, in which he offered to kick-start her career by featuring her in a new music video. But upon a later meeting in her apartment, Bobby tried to engage in sexual activity, to which Houston declined. The clip that was previously circulating the internet was reportedly taken in response to him unbuttoning his pants seconds before.
It's unclear how Houston will combat the extortion allegations, but the accuser previously gave her thoughts about Bobby's motives that night. "I feel that Bobby's intentions was to not embarrass himself to say he wanted to have sex with a transgender woman in front of a bunch of heterosexual women. So he waited until it was the appropriate time to come at me when it was one-on-one to get to the matter of what he wanted to do," Houston told BET.
Stay tuned to see how this situation ultimately turns out.