This '50 Greatest Black Athletes' List Is Being Ripped Apart on Twitter
Should Michael Jordan be No. 1 over Muhammad Ali?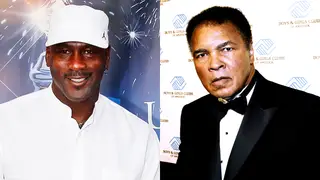 It's hard to compile a sports list that everyone is content with.
But The Undefeated's "50 Greatest Black Athletes" list is being ripped to shreds on Twitter right now namely for placing Michael Jordan ahead of Muhammad Ali. Nobody would ever argue MJ's dominance, but this list asked the public to consider athletes' dominance in their respective sport, their inspiration factor, and impact on society leading up to their overall rating. 
That being said, many people believe that Ali's inspiration factor and impact on society for both his in-ring magic and social activism far outweigh that of Jordan's and that the late boxing legend and global sports icon should have been No. 1. Do you agree?
People surveyed for The Undefeated's public list had Jordan No. 1, Jackie Robinson in the second spot, and Ali third, before Willie Mays (4th) and Jesse Owens (5th) rounding out the top five. Rounding out the top 10 are Serena Williams (No. 6), Hank Aaron (No. 7), Simone Biles (No. 8), Gabby Douglas (No. 9) and Jerry Rice (10th). Hmm ... no Jim Brown, Kareem Abdul-Jabbar or LeBron James in the top 10? And are Biles and Douglas a little too high on this list?
All those points, and more, were brought up by people who didn't hesitate dragging this list to hell and back.
Here's how The Undefeated rolled out the top 10 of this list in conjunction with Survey Monkey

And upon releasing it, the list began to get attacked with zero chill.

As great as Michael Jordan is, people really took issue with him being No. 1 on the list ahead of Muhammad Ali and Jackie Robinson

Do you agree with these tweets and this overall sentiment that Ali should have been No. 1?

At least one person believed that Serena has done enough on and off the tennis court to get the top nod

Others were upset that Simone Biles and Gabby Douglas ranked so high solely based on their Olympic feats

People definitely recognize Simone's and Gabby's #BlackGirlMagic but believe that other athletes should have been placed higher on the list ahead of them.

And People weren't shy about naming athletes that they thought were glaring omissions from this list's Top 10

Tiger Woods, who was left off of the list altogether, was perhaps the most polarizing name during this debate

Yes, on one hand Tiger Woods changed the landscape of golf. But as Stephen A. Smith pointed out on ESPN's First Take this morning, Woods infamously chose to not identify with his Blackness early on into his career. So, should he have still made the list?

The bottom line on this kind of list is it's hard to appease everyone, especially when only a portion of people weighed in, but do you agree with this?