Martin Luther King Jr.'s Children in Legal Battle Over Intellectual Property
Martin Luther King Jr.'s estate sued a nonprofit run by the iconic leader's daughter, claiming she plans to keep using her father's memorabilia despite no longer being licensed to do so.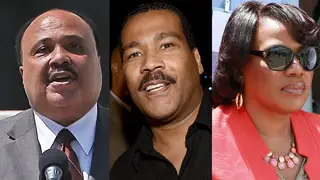 On the same day thousands gathered in the nation's capital to commemorate the 50th anniversary of Martin Luther King Jr.'s "I Have a Dream" speech, two of his sons filed a lawsuit against his daughter, Bernice King, over the use of the iconic leader's intellectual property.
Martin Luther King III and Dexter King, who run their father's estate, said Bernice, who is in charge of the the Martin Luther King Jr. Center for Nonviolent Social Change, has been careless with the use of Dr. King's "name, image, recorded voice and memorabilia." His writings, speeches, sermons, letters and copyrights, trademark interests, and "the remains and coffin contained within the crypt of Dr. Martin Luther King Jr." were also mentioned as part of his intellectual property. 
Court News Service reports:
The estate says it conducted an audit in April, which "revealed that the current manner of care and storage of the physical property by defendant is unacceptable." It claims the items are "susceptible to damage by fire, water, mold, and mildew, as well as theft."
King's sons say they tried to work with their sister to fix the problems, but the relationship "has recently become strained, resulting in a total breakdown in communication and transparency."

As a result, the estate allegedly was forced to terminate the worldwide, royalty-free licensing agreement by mailing the King Center a 30-day notice on Aug. 10.

Read full story here.
BET National News - Keep up to date with breaking news stories from around the nation, including headlines from the hip hop and entertainment world. Click here to subscribe to our newsletter. 
(Photos from left:  Mark Wilson/Getty Images, Kevin Winter/Getty Images,Monica Morgan/WireImage)