Caleb McLaughlin Discusses 'Shooting Stars,' Lebron James, and Transitioning Out Of Child Stardom
He also shares his thoughts on the extended wait time for the final season of 'Stranger Things'.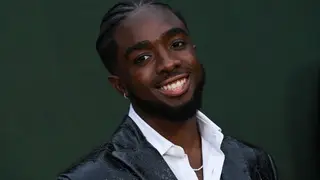 Stranger Things actor Caleb McLaughlin is fast evolving into a true "shooting star," as he plays a pivotal role in an upcoming film that chronicles the journey of LeBron James and his trio of high school friends. Bound by their shared passion for basketball and beyond, these individuals rose to fame as the 'Fab Four'. McLoughlin isn't alone in the film; joining him is Swagger actor Avery S. Wills Jr., Cobra Kai's Sian Cotton, and the lauded high school small forward Marquis 'Mookie' Cook, who is entrusted with the role of a young Lebron James.
In a conversation with BET, McLoughlin spoke about the film, his transition from a child actor to more mature roles, and his thoughts on the extended time it's taking for the final season of Stranger Things.
BET: It's not how you start the game — it's how you finish. Describe how you were at the beginning of filming 'Shooting Stars' to when you wrapped.
Caleb McLaughlin: I came into Shooting Stars a bit nervous but excited at the same time. After we wrapped, I left with comfort, love, and connection with these guys. Ideally, I would come to set and do my job – I left with a different level of confidence, these guys are like my family, and I learned so much. Playing [Lil Dru] and the elements he faced in the film, he needed a level of confidence that I never had to experience. Lil Dru was always doubted for his height and even at home, hearing his father talking about [Lebron James] was but might not have brought up how great he was – he couldn't care about the good or bad things people said, he had to believe in himself.
BET: Did you have conversations with Lil Dru to prepare for the role, and what was a tip from him or the director while on set?
Caleb McLaughlin: I was able to speak to Dru on the phone for a few hours about Lebron, his father, and how he felt about himself – I got enough information to portray him onscreen.
BET: The film is such an inspirational story. Did participating in this film inspire you in any way?
Caleb McLaughlin:Yeah, I didn't realize how much it inspired me until I watched it – I understood the film was not only about Lebron but about his friends and his community, and it's bigger than basketball. In the few interviews I had before this one today, an interviewer asked what was going on in their actual lives affecting them on the court and it was interesting because if the friendship was good, they would be winning games by 30 points, but if when they weren't cool with each other in the moment, they would be losing games. Basketball is a spiritual sport as it's all about energy and connection. Shooting Stars teaches about basketball and yourself as you'll resonate with the characters.
BET: We watched you since you were a teenager on Stranger Things to now being a 21-year-old right before our eyes. Have you considered how you would like to transition into more young adult roles? Any roles you have in mind?
Caleb McLaughlin: The transition is going smoothly – I call myself a chameleon, as I feel I can adapt to any role. While fans may know me as Lucas from [Stranger Things], I had to leave my comfort zone to play the role. I have a few films coming out this year in addition to this one – one film called The Book Of Clarence, directed by Jeymes Samuels. I also have a film directed by Lee Daniels called Deliverance, a scary movie. There will be a gradual change in the audience's eyes, where they will realize they don't know Caleb and understand I'm an actor – I love performing, singing, and gradually growing.
BET: Social media's reactions to waiting for the new season of Stranger Things until 2024 were justifiable, but we may need to wait a bit longer with the writers' strike. What were your initial thoughts when the news hit about the long wait and with the WGA strike in place possibly delaying the process? How are you feeling about the writers on your show now?
McLaughlin: I support the writers for sure – they are very important because any script for a film or series is being written and to build up a great story, you need writers. I support them 100% and I will now have the time to create my own stuff and work on music. Regarding the fans having to wait a bit for the final season, I will say things happen for a reason. Maybe this will give us time to brainstorm different ideas for the new season or maybe introduce a new character – at this time, I'm just waiting on the word for us to hop back into filming.
BET: Being humble is a key theme within the film — how do you always remain humble while accepting these fantastic blessings and opportunities?
McLaughlin:: I don't think anyone understands or learns how to be humble – I feel like people who say they are humble aren't humble. I would always say to be yourself and remember those who have always supported you, which will keep you grounded and humbled. You can't learn to be it, you have to do it – always see people as equals. No one is better than anyone. They just had a better opportunity.
BET: Lessons were learned throughout the film — did you walk away learning a lesson after participating in this film?
McLaughlin: I've become a better actor and learned how to shoot better when playing basketball (laughs). I left with a different level of confidence – while Dru and I aren't in the same industry, basketball is a bit more intense and competitive. I learned from him you can't always listen to your supporters as much as you value and love them. You can become lazy and complacent because you think you're so great.
You can stream Shooting Stars exclusively on Peacock.