Blac Chyna's Alleged Ex Found a New Way to Diss Her
There's even a Raven-Symoné connection.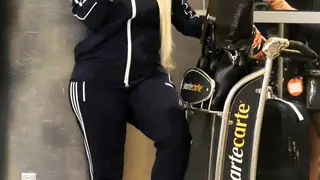 It looks like Blac Chyna is the target of a diss track, and one of her scorned exes is the artist behind it. In fact, he's already begun filming a music video in support of the track and has even enlisted a model, who's giving Chyna-esque vibes, to be the star.
According to TMZ, Chyna's alleged ex-boyfriend Pilot Jones recently recorded a song about the former stripper titled "Flossin'" and has cast Raven-Symoné's ex-girlfriend AzMarie Livingston to play his love interest in the visual.
On the track, Jones boasts that he is better off without the woman in question, whom he never mentions by name, but many have deduced Chyna is the unnamed subject as their relationship has been pretty public, though short-lived.
Ironically, Jones's diss track comes weeks after he revealed that he contemplated suicide due to Chyna's bully-like ways throughout their relationship.
Listen to the track, below:
Get more Blac Chyna news with BET Breaks, above.