EXCLUSIVE: Stephen And Ayesha Curry Tell Us What They've Learned About Love After So Many Years Together
The Curry's spice things up as hosts of the new relationship game show 'About Last Night'.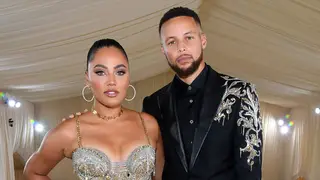 Stephen and Ayesha Curry know how to keep the romance alive after a decade of marriage. 
The Golden State Warriors star, 33, and cookbook author, 32, recently spoke to BET.com about their new game show, About Last Night, which will feature pairs of celebrity couples competing against each other in challenges and trivia.
The celebrity couples that advance to the final round get the chance to face off with Steph and Ayesha for the winner's title and a grand prize that will ultimately go to the charity of their choice.
Although the couple has been happily married for a decade, they have learned a few things about love from their show guests.
"We've learned a lot, especially from the ones that have kids, and how you balance the responsibility and the presence, you want to have your kids but still prioritizing your relationship. And making sure that you know, that's the most important thing because nothing else works unless you're in lockstep and, and you're nurturing your marriage and your relationships to the fullest," says Stephen Curry. 
Curry also mentions how inspired he was learning how the other couples prioritize one another for date nights. 
 "Seeing how the different couples go about that, how they have fun, how they prioritize that time, what they do for their ideal date nights, different ideas like that. It was all kind of inspiring to know. There are different ways to do it. But that is the most important thing when you're trying to build a successful, long-lasting marriage," Curry explains. 
As we all know, Ayesha is a decorated chef in the culinary world, and Steph is chef Curry on the basketball court. But when the cameras aren't rolling, and the lovely couple is home with their family- you'll never believe who the best chef out of the bunch is. 
Ayesha says, "There's no competition actually these days. It's our daughter. Our oldest, Riley, 9, loves to cook so much. She made fresh scratch-made waffles this morning. She's really good with breakfast, so we're proud of her for getting her hands dirty.
About Last Night is set to premiere on HBO Max on Feb. 10.