BET Awards 2022: Take A Look Back at 5 Artists And Their First-Ever BET Awards Appearances
How many of these first-ever moments do you remember?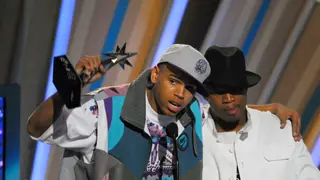 You never know what could happen at the BET Awards. Some of the most significant moments in culture have taken place on the BET stage, including dynamic performances between legends, first major wins for an up-and-coming rap group, and career milestone wins. Ahead of this year's BET Awards 2022, hosted by actress Taraji P. Henson, we're looking back at some of the first-ever moments on the most prominent award stages. Also, don't forget to tune into the culture's biggest night happening live on Sunday, June 26 at 8 p.m. ET/PT.
Legends Unite

For the first time, Michael Jackson and James Brown united on stage. During the third annual ceremony, Jackson surprised Brown while joining him for a performance of a lifetime before honoring the Godfather of Soul with the "Lifetime Achievement Award."

OutKast

Atlanta-based hip hop group OutKast consisting of members Big Boi and Andre 3000, won their first major music award ever, with two total, at the BET Awards 2001. The dynamic duo took home "Best Group" and "Video of the Year" for the iconic hit record "Ms. Jackson." During their acceptance speech, Big Boi said they canceled prior engagements to attend the annual ceremony citing "BET been rocking with us since day one."

Bow Wow

Formerly known as Lil Bow, the Columbus, Ohio-born rapper became the first-ever recipient of the "Viewer's Choice Award" at the BET Awards 2001. The young emcee was joined on stage by Grammy Award-winning super producer Jermaine Dupri, Jagged Edge, and 106 & Park veteran hosts AJ and Free.

50 Cent

New York rapper 50 Cent had several firsts during his initial appearance at the BET Awards 2003.  It was his first time at the major event, but he took home two wins, including "Best Male Hip-Hop Artist" and "Best New Artist."

Chris Brown

The Grammy Award-winning R&B crooner Chris Brown won his first-ever music award for "Best New Artist" at the BET Awards 2006.

Tune in to the BET Awards 2022 Sunday, June 26 at 8 p.m. ET/PT on BET.