Michael Jackson's 'Thriller' Celebrates 40th Anniversary
The King of Pop's estate has re-released the iconic album with 10 new tracks and an immersive in-person experience in NYC!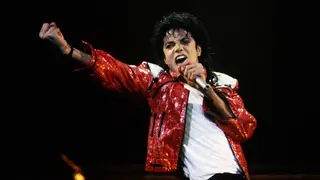 Fans of Michael Jackson are celebrating the 40th anniversary of the "King of Pop's" Thriller album, with a re-release of the classic project with 10 new never-before-released tracks, thanks to Jackson's estate.
According to an official press release obtained by BET.com, on Friday (Nov. 18) the late singer's Thriller will feature new music produced by Quincy Jones hailing from Jackson's vault. Two new music videos for his songs "Human Nature" and "Wanna Be Startin' Something," will also be found on the album.
In addition to the album release, a Michael Jackson Thriller immersive event is also taking place in New York City, where fans of the 13-time Grammy award-winning artist can transport into the world of Thriller with track-focused experiences.
Attendees will be able to immerse themselves in the "Billie Jean" short film filled with neon signs, graffitied walls, and the iconic lighted walkway; step into the "Beat It" pool hall setting where you will be taken back to the 80s to play vintage arcade games before sneaking into the Beat It Café to get a bite to eat.
There will also be an opportunity to submerge yourself in the Thriller film!
Interactive walls, photo booths, and a gift activation will also be available to enjoy.
The three-day Michael Jackson Thriller 40 Immersive Experience in New York City kicks off at 4 pm ET on Nov. 18 and ends on Nov. 20 at 10 pm ET.
Grab your free tickets here.