#OnTheVerge: Fridayy Is Looking To Make More Timeless Hits
The Philly singer-producer reveals how his own record turned into "God Did", his origin story, and what he wants his lasting impact to be.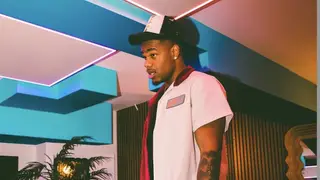 With each passing year, fresh sounds and artists bubble up from the underground, later hitting the ears of music fans looking for that newest flair. But as the days come and go, so do certain styles and their creators for one reason or another.
That new wave you thought was IT just six months ago may be old news by now. It's the reality of the music business these days, and in the age of social media, there's so much more to pay attention to. That's where #OnTheVerge comes in. Each week, BET.com will feature artists on the come-up, full of promise, and on the verge of making it into the headphones and through the speakers of a much larger fanbase.
This week, we spoke with Fridayy, who has a lot to look forward to in the new year. Already earning placements on Lil Baby's 2022 album It's Only Me ("Forever") and the title track for DJ Khaled's God Did, which features Rick Ross, Lil Wayne, John Legend and Jay-Z, the Philadelphia native is well on his way.
The singer-songwriter and producer got his big break in the music biz when he wrote for Chris Brown's Breezy LP, from last year, on the songs "Till the Wheels Fall Off" (featuring Lil Durk and Capella Grey), which he also helped produce, and "Need You Right Here" (featuring Bryson Tiller).
"It was crazy. I cried that day. I couldn't believe it, like, just to see him singing my s**t. I couldn't even explain it," Fridayy tells us. "The crazy thing about that, like his album was already done, and then when I sent him the song he recorded it that same night or next day and added them two records to his album – like two weeks before it even dropped. Just to know that he heard my s**t and felt it so much to record it that night and throw it on his project last minute. It was crazy, I couldn't believe it."
The son of a first-generation Haitian immigrant family, Fridayy grew up in the church, playing piano, guitar, and just about any instrument his family taught him. It led him early on to be influenced by Boyz II Men, Brian McKnight, and Legend, which came all the way full-circle when he laid the groundwork for "God Did".
"I didn't even know [DJ] Khaled when I made it," Fridayy reveals. "When I made the track, I was in my room all day just listening to it like this is the one, if only I could get it to Khaled. So I called everybody, played it for everybody, called my A&R and luckily he had Khaled's number, so he sent it to Khaled and Khaled hit us the next day like, 'This is going to be a movie.'
"Couple days later, Khaled hit us like, 'I just put three people on there, this s**t going to live forever.' In my head, I'm already thinking like Kanye [West], big names. That's a high-level record, so when he hit me up, he was like yeah Jay Z hopped on it.
"When I heard John Legend was on it, I just thought I was going to be off [the song]. Not all the way, maybe he'd keep my choirs, but I thought he was going to take the lead. And mind you I didn't hear the official track until it came out, so when I heard my voice on the first line, that was just surreal to me."
The placement earned Fridayy three Grammy nominations but moving into 2023, his goal is to make his own way as a solo artist. In October, the multi-talent released his debut project Lost In Melody, which details the pain and struggle he had to get through to get to this point.
"I couldn't talk about anything else because I was f****d up," Fridayy said of his debut. "I couldn't talk about getting money, living good because during the whole process of that album I was down. So I'm just talking about things I'm going through and I wasn't even going into detail. I was on the surface level because I wanted people to relate it to whatever they're going through."
Moving forward, Fridayy says his impact has already been crucial to many people, but ultimately, he wants his music to stand the test of time.
"I just want to leave an impact. While I'm gone, I just want them to remember me because I'm already seeing the impact," he concludes. "The music I'm making is saving lives right now. People hit me up like, "Bro, this song saved my life. I was about to kill myself and I listened to this song.' That alone is enough for me. After I'm done, I just want them to remember me. Timeless music, that's what I'm trying to make."
Preeminent Visual:
Latest Release: