Sheryl Lee Ralph Delivers A Commencement Speech To Rutgers University Graduating Class And Receives Honorary Degree
The actress was the youngest woman to graduate from the college in 1972.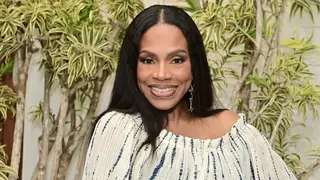 This year's Rutgers University graduates had the honor of having Emmy-award winning actress Sheryl Lee Ralph deliver the commencement speech for the Class of 2023 held on Mother's Day.
Quoting a few lines from Diane Reeves' "Endangered Species" record, reminiscent of her Emmy Award speech, she continued by paying homage to Paul Robeson, the late activist and distinguished Rutgers graduate.
"I could have just imagined what it was like when you first came here to the campus as freshmen," she said to the graduates.
"Our country and the world took a tragic and difficult turn. Kobe died, George Floyd was killed and then the world and everything changed when COVID-19...shut down the world. But, you stayed the course, you never gave up, you kept doing. We need people who have been through something and still have so much to give and share, that's you."
She also encouraged the students to chase their passions and not focus on the money.
"Don't chase money. Money will come," she said.
"Figure out what makes you happy. If you enjoy what you do, it doesn't feel like a job."
The star also received an honorary doctor of fine arts degree from Rutgers President Jonathan Holloway.
Her family was by her side, with her son Etienne posting fun photos while on the campus and sharing he felt like a "proud parent" watching his mother deliver her speech.
The Abbott Elementary star became the youngest graduate at the University during her time there, graduating in only three years in 1972 with Glamour magazine recognizing Ralph as one of the top 10 college women in America.