Here's Why Xscape Will Have To Do An Album Without Kandi
Kandi spills the tea on why she said no to a comeback album.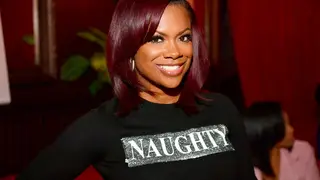 Sorry folks, it doesn't look like there will be another Xscape future – at least not with the entire group present. In a new interview with Madame Noire, Kandi Burruss confirmed that she is not down to record another album with the classic girl group — and the reason why may surprise you.
Kandi originally announced that she had no plans to create a comeback album with her group members during the Great Xscape Tour. While the singer-songwriter has often disagreed with the group about their musical direction, Kandi says she unwilling to make a new album because she doesn't want to tarnish the group's legacy. "As soon as the girls and I started talking initially, I had told them I didn't really want to do new music and the main reason is because I feel like I don't want to mess with our legacy," Kandi told Madame Noire. "When we were a group, we had three platinum albums, all of our albums were hits, we never had a flop album and things are not how they used to be back then."
As previously reported, Xscape's resurgence in the public eye hasn't been without its fair share of issues. Their reality show on Bravo, Xscape Still Kickin' It, revealed a lot of the baggage that the women were holding onto from their early days in the industry, as well as their current issues with one another. Kandi has also had several disagreements with some of her  bandmates, namely Tamika Scott, surrounding Kandi's involvement with Jermaine Dupri and his father.  
It's unclear whether the group is still planning to go through with an album, but at least we know where Kandi stands.