Police Say Richmond Graduation Shooting Was Result Of 'Ongoing Dispute' Between Suspect, Victim
Amari Ty-Jon Pollard has been charged with two counts of murder for his role in the shooting.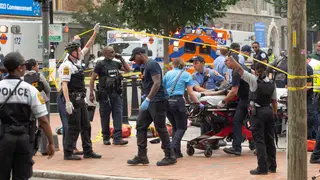 Authorities believe that a deadly shooting that left a recent high school graduate and his step-father dead in Richmond, Virginia was the result of an "ongoing dispute" between the victim and suspect, CBS News reports.
Shawn Jackson, 18, and his stepfather Renzo Smith, 36, were killed in the shooting on Tuesday (June 6) that left five others injured.
Acting Chief of Police Rick Edwards said that the shooting was "targeted" and was connected to a dispute that had been going on for more than a year between Jackson and Amari Ty-Jon Pollard, the suspect.  Law enforcement is currently investigating what fueled the dispute and led to such an unfortunate chapter.
Jackson's mother, Tameeka Jackson-Smith told the Associated Press that he had just been handed his diploma and was walking to join his family when the gunfire began. As fearful witnesses scattered, her nine-year-old daughter was struck by a car. She was treated for leg injuries at a hospital and released.
A spokesperson from the Richmond Public Schools announced that the graduation ceremony would be rescheduled to another date.
"This incident occurred toward the end of the Huguenot High School graduation and we have canceled the Thomas Jefferson High School graduation scheduled for later tonight. It will be rescheduled soon," the spokesperson said.
"I can't shake the image of him receiving CPR... still in his graduation gown," Jason Kamras, Superintendent of Richmond Public Schools added.
U.S. Rep. Jennifer McClellan, who represents Virginia's fourth congressional district, which includes Richmond, said in a statement, "Tonight's celebration turned into every parent's worst nightmare. As the mother of two school-aged children, I cannot fathom the profound heartbreak, sense of loss, and trauma these families are experiencing."
"The gun violence epidemic is a public health crisis that we must address. We cannot continue to live in fear," she added.
Pollard, 19, was arrested on Tuesday (June 6) evening and was charged with two counts of second-degree murder at an arraignment on Wednesday morning.
Pollard is being held without bond.