Surveillance Video Shows Ta'Kiya Young In Store Before Shooting
Ta'Kiya Young and her unborn daughter were killed after she was suspected of shoplifting at a Kroger grocery store in Columbus.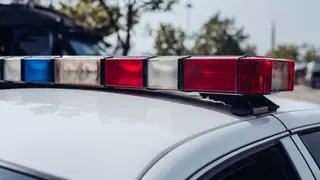 Surveillance footage released by Ohio authorities has revealed that  Ta'Kiya Young was in a Kroger grocery store just before being fatally shot by police.
According to the Associated Press,Young along with two other women are seen walking around the liquor department of the store in the city of Columbus. The footage shows Young placing several bottles of alcohol into a tote bag and her purse, Eventually, Young and the two other women apparently left the store without paying for the alcohol.
As the video continues, Young is seen getting into the driver's seat of a black Lexus which was parked in a handicap spot and she was approached by two police officers.
The video ends with the officers pursuing Young's car which has moved out of view of the camera.
Moments later, Young was killed by a Blendon Township police officer who had been identified as Officer Connor Grubb, who fired one shot into her windshield after she would not get out of the vehicle and proceeded to him. Pregnant with a daughter that was due in November, the baby also died as a result of the fatal incident.
Following the shooting, footage shows police officers attempting to give medical aid to Young.They Broke window of her car, which collided with the brick wall of the supermarket, and pulled her from the vehicle.
Along with an emergency room doctor who was in the parking lot, both officers continue medical aid until paramedics arrive.  One officer is heard saying that Young tried to run him over and other officer responds, "I know."
Sean Walton, the attorney for the Young family said that the family has not seen the latest video because of the graphic nature of the footage.
Blendon Township Police Chief John Belford said in a statement that  both officers were placed on administrative leave after the shooting, but only the officer who fired the shot remains on leave.
"A lawsuit is very likely to be filed about this incident. There may be other legal proceedings as well. That's why we're very limited in what we can say," Belford said. "We're being as transparent and forthcoming as we can, given these significant legal constraints."
Young's family called the horrific shooting a "criminal act" and "gross misuse of power and authority" after witnessing the video.
"She was murdered — her and her baby," Nadine Young, Ta'Kiya's grandmother said at a news conference last Wednesday (September 6).
Walton accused the officers of killing Young  for an alleged minor offense.
"I see nothing but more evidence that a murder occurred, more evidence of the policy violations that occurred, and more reason why this officer should be terminated and indicted for murder," Walton said.