Black Twitter Has Flustered Reaction To One United Bank's Harriet Tubman Debit Card
She is giving the Wakanda symbol, but the card is getting the side-eye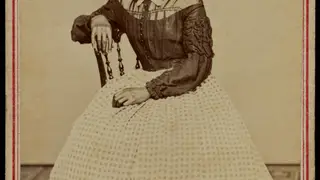 In celebration of Black History month, Boston-based One United Bank decided to create a limited-edition Harriet Tubman Visa Debit Card as a "symbol of Black empowerment." The image shows the Underground Railroad freedom fighter crossing her fists over her chest, seemingly making the "Wakanda Forever" gesture, which was popularized by the blockbuster 2018 Marvel superhero film Black Panther.
Officials from One United, the nation's largest Black-owned bank, say it's not a Wakanda symbol, but rather American Sign Language for "love." Teri Williams' the bank's chief operating officer told NBC News that it had been making plans to use Tubman's image since 2016. They moved ahead when the Trump administration would not place her depiction on the $20 bill, which had first been conceived during Barack Obama's presidency.
"We didn't want to portray her as she normally is, which is in a passive pose," said Williams. "When the artist presented this image of her we actually loved it. Particularly today, black love is an important message."
Even some people who understand sign language saw the Black Panther signage before they saw "love."
"It seems to show the Wakanda 'forever' symbol rather than an American Sign Language sign for love," according to Robert Weinstock, spokesman for Gallaudet University, a Washington D.C. university that enrolls the deaf. "I would hesitate to portray it as anything but the Wakanda imagery."
It didn't go over too well with Black Twitter, either. Many mocked the image and others were flustered by it. 
There has been a long push to have Tubman's likeness on the $20 bill. But it is something the Trump Administration has long resisted.
In May 2019, Treasury Secretary Steven Mnuchin revealed during a congressional hearing that Harriet Tubman will not appear on the bill as planned for 2020 and the release would be delayed for several years.
"The primary reason we've looked at redesigning the currency is for counterfeiting issues," Mnuchin said when Rep. Ayanna Pressley, asked him when the new bill would be ready.  "Based upon this, the $20 bill will now not come out until 2028. The $10 bill and the $50 bill will come out with new features beforehand.
"The ultimate decision on the redesign will most likely be another secretary's down the road," he said.