Watch: Cops Violently Arrest Double Amputee As She's Lying On The Ground After Falling From Wheelchair
Disabled Mary Brown is heard crying for help in newly released video.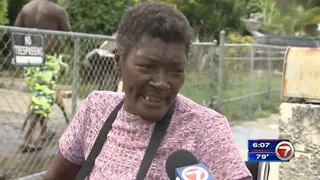 Very disturbing video shows police arresting a double amputee after she fell out of her wheelchair.
Mary Brown, who has been amputated from the knee down, is heard crying for help in the footage while Miami-Dade Police attempt to put handcuffs on her. "Stop hurting me," she yells out.
Eventually Brown would fall to the ground after police let her go while putting the handcuffs on her. "Would you get me up off this ground?" she subsequently asks.
The very hard-to-watch video was captured by a concerned bystander. The cops were called to the gas station after Brown refused to leave the premises after being asked to do so.
"It doesn't have to go that far to where you can't at least pick her up off the floor," the bystander told 7 Miami News. "No matter what she did, it wasn't that bad."
Mary Brown was arrested for trespassing. She was taken to jail in an ambulance and would be released the next day. She said she didn't leave because she didn't have any help.
"Just because I don't have legs to move about like everyone else, I still was in my chair, and I deserved some respect," "I asked for help, help, help, over and over again. No one came."
The Miami-Dade Police department later released a statement explaining how they're going to review with officers how to transport disabled people. Brown says she's considering a lawsuit.
The question above all is: Who calls the cops on a wheelchair-bound disabled person that isn't doing any harm? Watch video of what happened below.