'Tyler Perry's Sistas': Dani Acts A Fool In Front Of Preston's Fiancee
In the season premiere of 'Sistas,' the crew comes back together to support each other throughout their usual shenanigans.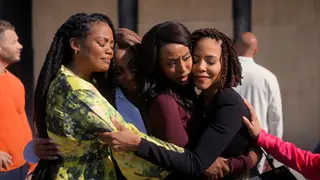 Tyler Perry's Sistas is back for season 6! Let's get into what the messiest group of friends on TV right now have going on!
We left off with Que and Maurice tussling. Welp, it ended how we expected; Maurice shot Que. Calvin walked up just as it happened and convinced Maurice not just to flee the scene. Calvin calls the police to come get Que, who lost consciousness and may or may not be dead, but hold that thought.
Next, we have Dani in a bar drinking her troubles away. She's so drunk that the bartender cuts her off, takes her car keys and calls her girls to get her. Coincidentally, Preston is there on a date with his new fiancee. He notices Dani struggling and checks on her. She tells him to go away, but she's really happy to see him.
Meanwhile, Dani's at a bar drinking her troubles away. She's trying to get more, but the bartender cuts her off and confiscates her car keys. Then her ex Preston shows up because he's concerned and just so happens to be there on a date with his fiancee, but she's feeling salty because he moved on and tells him to go away, but we all know her feelings are hurt.
Back to Maurice and Calvin. An ambulance picks up Que, who is still alive for now, and the police show up and question Maurice and Calvin. Maurice is being hostile, while Calvin tries to talk some sense into him. They give their version of events, which is that Maurice was defending himself against Que, and the cop tells him they have surveillance that they plan to
Next, we find Zac and Fatima in bed and blissful. This is a timeline before the events of the last season of Zatima. Anyway, they're talking about Zac's baby mama drama.  Fatima reveals that she doesn't like it but is willing to deal with it because she loves him and he has been transparent with her the entire time. Remember, there's the baby mama that has Zac's son, and then Karen is pregnant, and it might be Zac's baby two. This is going to be a lot.
The girls arrive at the bar to talk to Dani. She is definitely on one, and we did not leave them all on good terms. However, they tell Dani they love her and that she was right about them when she called them on their bullshit. They declare that they should be patient with each other because they all have their drama, and apologize to Dani for making her feel judged. Dani is receptive and accepts their apology. Then she wanders over to Preston and his new lady and starts drunkenly babbling as her girls watch her embarrass herself. They eventually drag her away, but not before the damage is done.
Karen heads home and finds Aaron waiting for her. She finds out that the woman who came to the salon was a woman he was seeing for a quick spell. It wasn't that deep to him, he was just hoping that Karen would finally come around and want to make it official with him, but this just makes him look bad in Karen's eyes because she thinks he just tells women what they want to hear. She can't grasp that a woman he had a fling with would be this intense about him. She tells him to leave her alone because she's more worried about her shop than anything. Pam sends her a photo to show her that the shop was closed properly but she notices that the curlers are still on. Karen rushes to the shop, and a small portion is on fire. She runs in, like the genius she is, and tries to contain it with a fire extinguisher that jams. She's doing this while pregnant and coughing up a storm. We end the episode with her passing out. Yikes.