Celebrating 50 Years of Hip Hop: The Unforgettable Albums and Songs of the 2010s
From Kanye West to Nicki Minaj, these songs and albums marked a creative period in hip hop.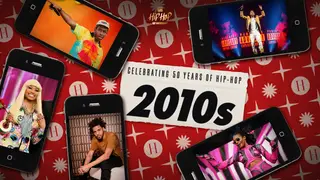 In the 2010s, hip hop's evolution was evident in every beat drop, verse, and chorus. The advent of streaming and the ubiquity of social media meant that artists could engage with their audiences like never before. This decade saw hip hop not just top charts but also shape conversations about race, politics, and identity. As we celebrate National Hip Hop Day and mark hip-hop's 50-year legacy, let's dive into the albums and songs that made the 2010s a testament to the genre's dynamism and diversity.
"My Beautiful Dark Twisted Fantasy" - Kanye West (2010)

Pivotal Facts: An early introspective dive into Kanye West's psyche, exploring his relationship with fame and his inner demons.
Artist Milestone: This album reinforced Kanye's position as a major creative force in hip hop.

"Pink Friday" - Nicki Minaj (2010)

Pivotal Facts: With her debut album, Nicki Minaj showcased her multifaceted flow, charismatic persona, and vibrant alter egos.
Artist Milestone: Minaj broke numerous barriers for female rappers, ascending to global prominence.

"2014 Forest Hills Drive" - J. Cole (2014)

Pivotal Facts: A meditative take on success, love, and maturity, all without one guest feature.
Artist Milestone: With this album, J. Cole cemented his reputation as a profound lyricist and producer.

"Good Kid, M.A.A.D City" - Kendrick Lamar (2012)

Pivotal Facts: A captivating look at Kendrick Lamar's Compton youth, detailing the challenges of growing up amidst violence and vice.
Artist Milestone: Kendrick's storytelling prowess was front and center, laying the groundwork for his subsequent masterpieces.

"Broke with Expensive Taste" - Azealia Banks (2014)

Pivotal Facts: Melding house, UK garage, and traditional hip hop, Azealia Banks's debut stood out for its eclectic influences.
Artist Milestone: With her unparalleled style, Azealia announced herself as a unique force within the musical landscape.

"Culture" - Migos (2017)

Pivotal Facts: The album introduced the world to the collective brilliance of Quavo, Takeoff, and Offset spotlighting the trio's influence, from their unique flow to trendsetting ad-libs.
Artist Milestone: Migos' impact was felt beyond music, influencing fashion and the broader hip hop culture.

"Laila's Wisdom" - Rapsody (2017)

Pivotal Facts: An album brimming with soul-infused beats and insightful lyricism, discussing womanhood, love, and societal reflections.

Artist Milestone: Rapsody's intellectual craft and approach elevated her to the upper echelons of modern lyricists.

"Invasion of Privacy" - Cardi B (2018)

Pivotal Facts: Through tales of her past, relationships, and the challenges of fame, Cardi B crafted global anthems.
Artist Milestone: Cardi's journey from reality TV to the zenith of hip hop marked her as a powerhouse of talent with authenticity.

"ASTROWORLD" - Travis Scott (2018)

Pivotal Facts: This sonically diverse project presented listeners with Travis Scott's distorted, carnival-esque world.
Artist Milestone: Travis' fusion of hip hop with psychedelic elements made "ASTROWORLD" an absolute standout.

"IGOR" - Tyler, The Creator (2019)

Pivotal Facts: Shifting from his earlier sound, this album delved into love, identity, and self-acceptance.
Artist Milestone: "IGOR" showcased Tyler the Creator as an artist whose musical style and narrative depth superseded his peers. 
The 2010s in hip hop were characterized by boundary-pushing, genre-blending, and poignant socio-political messages. The decade wasn't just about great beats or catchy hooks; it was about asserting hip hop's place as the defining sound of a generation. Celebrating 50 years of hip hop means recognizing these moments and acknowledging the 2010s as a period of unmatched creative fervor.