Ava DuVernay Makes History As The First Black Woman On A Ben & Jerry's Ice Cream Pint
Proceeds go to the filmmaker's non-profit.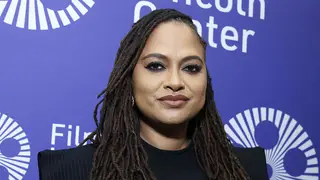 Ava DuVernay has once again made history. The Emmy Award-winner and Oscar nominee is now the first Black woman to be pictured on Ben & Jerry's pint of ice cream.
According to PEOPLE, the filmmaker "directed" her own ice cream flavor, which is Lights! Caramel! Action! Her pint consists of vanilla ice cream with salted caramel and graham cracker swirls and pieces of chocolate chip cookie dough. There is also a non-dairy version of the flavor made with almond milk. DuVernay's pint, which will include her face, begins shipping out nationwide January 2023.
The 50-year-old said in a statement that she chose the flavors, "Because I love them and I eat them in real life. First of all, chocolate chip cookie dough. What more needs to be said?"
She also added, "There's no women of color overall [on Ben & Jerry's pints]. And so they understood that that's something that they wanted to change, and I'm happy that I was able to be involved in being a part of that change. I'm not taking it too seriously, but I do think that it's important to walk through doors that have not been opened. And it's not an accomplishment because someone has closed the door and then opened it. It is an action that needs to be taken. And so I'm glad that they've done it. And if I can support that, I'm happy to do it."
DuVernay explained the name of the flavor had a social justice angle, "When I thought of [the name], of 'action' — that's what we're asking people to take. Whether it's you're deciding what you want to consume in the way of ice cream, how you feel when you walk out of a film and actually taking action. And not just letting it entertain you, but rising to the challenge of what the story might reveal about history, about people. The whole word, 'action,' and the idea of it, is a big one for me in my life. Social action, social justice and ice cream."
Proceeds from the sales will go to her non-profit, ARRAY Alliance, which is an independent distribution company that amplifies films from people of color.