Without Black People, Movies Wouldn't Be As Lit
This month learn how impactful our Black history has been on the world.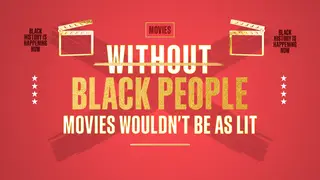 However, Oscar Micheaux proved Black people could innovate behind the camera as his groundbreaking Within Our Gates film proved while highlighting racial white violence. As we have continued to carry the torch and redefine art and commerce in Hollywood, BET.com asks what would it look like if Mr. Micheaux and those who followed suit never existed to create the stories beloved around the world today?
For this year's Black History Month celebration, allow us to share just how much we'd all miss out on without Black people to make movies look cool. (Also, check out how hip hop would be without us here.)
Without William Greaves, There's No Black Voice in Experimental Cinema

Without William Greaves' work, documentaries focusing on the full Black life experience wouldn't exists. Considered to be one of the most first notable Black independent documentarians, William Greaves initially aspired to be an actor and even studied alongside legends like Marlon Brando. 

Exhausted by the limitations of roles available at the time, he studied film in Canada before directing his first short documentary through 1959's Emergency Ward. Greaves' work also proved Black creatives could make surrealist experimental cinema through meta-documentary Symbiopsychotaxiplasm: Take One. 

Before his death in 2014, he would go on to write and direct around one hundred films. And without him, other stalwart filmmakers such as Barry Jenkins, Dee Rees, and more wouldn't be around to gift cinephiles with avant-garde work.

Without Melvin Van Peebles, There's No Blaxploitation Era

Nearly financed by himself following a three-year picture deal with Columbia Pictures, Melvin Van Peebles directed the daring and bold Sweet Sweetback's Baadasssss Song. Released in 1971, the film sees Sweetback attempting to flee the police after being framed for murder. 

Sweet Sweetback's Baadasssss Song kicked off the Blaxploitation Era that would be defined by Black characters being the subjects and heroes of the film alongside iconic soundtracks from legendary artists from Earth, Wind and Fire to Curtis Mayfield. 

Without Peebles exploding the film genre, Hollywood wouldn't have experienced guerrilla filmmakers like Nilja Mu'min and Wanuri Kahiu  radically tackling Black issues and also marketing promotional rollouts through music.

Without Ike Jones & Charles Burnett, There's No Black Filmmaking Rebellion

Once Ike Jones became the first Black graduate of UCLA's prestigious film school around the early 1950s, it kicked open new opportunities for aspiring filmmakers of color. A decade later, a new crop of Black filmmakers came to be known as the L.A. Rebellion. 

One of the most notable members of the collective was Charles Burnett, a man who went on to release the classic independent film Killer of Sheep in 1978.  Without them, a new generation of Black and gifted filmmakers unafraid to take bold risks like Spike Lee and John Singleton wouldn't have risen from the Black pool of genius to change the cinematic landscape.

Without Spike Lee, There's No Major Cinematic Challenge To Racial Injustice In America

Spike Lee's directorial debut She's Gotta Have It set the tone for a bold visionary director not afraid to tackle issues specifically facing the Black community. Most importantly, Spike Lee was the first Black director to arrive out of hip hop generation. 

From School Daze take on HBCU life and Do The Right Thing statements on police brutality to Bamboozled anger at modern minstrel shows, it's not a "Spike Lee Joint" without many conversations about those films after watching. 

Without Julie Dash, There's No Push For More Black Women Directors

Black women were a part of the L.A. Uprising, but were limited but definitely visible. This includes New York-native Julie Dash. 

Dash, whose Daughters of the Dust made history as the first full-length directed by a Black woman, became a barrier-breaker. 

Without her, other filmmakers like Darnell Martin, the first Black woman to direct a major studio-backed film (I Like It Like That), Nia DaCosta, Kasi Lemmons, Ava DuVernay, Dee Rees and more would not have been seen in that director's seat.

Without John Singleton, There's No Rise of the Young, Black Director

Los Angeles native John Singleton wrote and directed Boyz n the Hood as a coming of age story inspired by his life alongside people he knew. Released summer of 1991, the film started future Hollywood heavyweights including Angela Bassett, Regina King, Ice Cube and Laurence Fishburne. 

The coming of age story of Tre living in gang-infested LA made Singleton the youngest person ever nominated for a Best Director Academy Awards alongside earning Best Original Screenplay. Without this history-making moment, it wouldn't give credence to young Black filmmakers like Phillip Youmans, Stefon Bristol, and others to win big and evolve Black cinema how the world sees it now.

Without Ava DuVernay, Hollywood's Boardrooms Don't Focus on Black Executives

Ava DuVernay was already a force in Hollywood as a publicist before her stepping behind the camera. Releasing documentaries including This Is the Life and indie films like I Will Follow, she broke into mainstream with historical drama based on Martin Luther King Jr. through Selma. 

This eventually set DuVernay to become the first Black woman given the opportunity to direct a live-action film with a $100 million budget. Taking things further, she created independent distribution company ARRAY Now as a way to amplify films from people of color. 

Without Tyler Perry, There's No Black Major Film Studio

From stage plays of the chitlin circuit to making Madea a household name, Tyler Perry has defied expectations of Black creatives within Hollywood. Besides making millions of dollars in total box office and television revenue, the New Orleans-native is also one of the pioneers on the executive front. 

Opening in 2019, Perry became the first Black man to own a major film production studio through Tyler Perry Studios in Atlanta. Films shot at the 330-acre studio includes not only his own films but others like Black Panther and Coming 2 America. 

Besides losing those historic gains, Hollywood without Perry means that the roadmap to building out your own executorship like how the likes of Robert Townsend (Townsend Entertainment), Ava DuVernay (Array), LeBron James (SpringHill Entertainment), and others have done it gets lost in the sauce.

Without Ruth E. Carter, There's No Diversity in Costume Design Onscreen

Film production is more than actors, directors and producers. Costume design is just as important in making stories feel believable. No one understands that more than Ruth E. Carter. 

Without her, we don't see how stylish and cool Black people can look on screen. Getting her start alongside Spike Lee on films like School Daze, Carter has several dozen films under her belt including Amistad and Love & Basketball. 

However, her work on Black Panther made her the first Black woman to win a Best Costume Design Oscar for her work alongside Ryan Coogler's 2019 superhero classic.

Without Black Creatives, There's No Gains in Animation

Black creatives have also grown to inspire the animated sector. Basketball legend Kobe Bryant became the first professional athlete to win an Oscar for his 2017 short Dear Basketball. 

Former NFL player turned director Matthew Cherry would win a 2020 Oscar for Hair Love following a successful Kickstarter campaign. Peter Ramsey became the first Black person to direct a big-budget animated feature through 2012's Rise of the Guardians before winning an Oscar for his directorial work on 2019's Spider-Man: Into the Spider-Verse. 

Without them, millennials and Gen-Z fans don't get to see themselves reflected on screen through dazzling animation.