Lizzo Credits Beyoncé As Her 'North Star' During 'Carpool Karaoke' On 'The Late Late Show'
Lizzo said Bey got her through some dark times.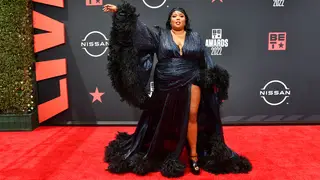 Lizzo's recent appearance on The Late Late Show with James Corden credited Beyoncé with giving her confidence.
On Tuesday (June 28), the talented 34-year-old singer joined the show's host for his popular segment "Carpool Karaoke." In the almost 15-minute video, the pair started their ride singing Lizzo's hit single "Good As Hell" and nailing the bridge's high note. During the ride, Corden and the audience were treated to an impromptu flute solo by Lizzo– where she disclosed that she named the melodic woodwind instrument Sasha Floot after Beyoncé's alter ego Sasha Fierce.
"When I was shyer when I didn't think I was cool, and when I was getting picked on, I would listen to Beyoncé in my bedroom, and it would transport me," she told Corden. "I would feel something. I would feel my life is gonna be better. There's hope for me."
She also called the "Halo" singer her "North Star," which guided her through her darkest moments.
"When I dropped out of college, and I was really depressed, I listened to 'B'Day' on repeat, and I would just sing 'B'Day' all the time," she recalled. "And I was like, 'I'm gonna be a singer, I'm gonna be a singer.' The way she makes people feel is how I want to make people feel with music. She's been my north star."
As they cruised the streets in a black Range Rover, Lizzo and Corden then did a rousing cover of Bey's "Crazy In Love" from her 2003 solo album "Dangerously In Love."
The duo covered Lizzo's other hits like "Juice," "Special," and "Truth Hurts."
After a thong debacle, Corden pulled the SUV over, and he and Lizzo (joined by TikToker Jaeden Gomez, who created the dance, and other dancers) performed the viral routine to "About Damn Time."
At the end of the video, Corden thanked Lizzo for getting him to work and said he loved her.