Enter BET's Beyond the Lights Sweepstakes
Winner gets an all-expense paid trip to Black Girls Rock!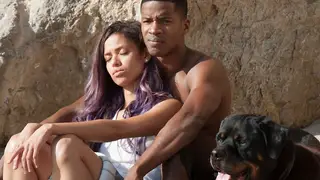 BET is celebrating the upcoming release of Beyond the Lights in a big way. Readers can get their own peek at a life of fame by entering the Beyond the Lights sweepstakes for a chance to win an all-expense paid trip to Black Girls Rock! in 2015. The lucky winner will also get behind-the-scenes access to all the performers and special guests of the show. 
Entering is easy: click here and fill out the form before November 14, then wait to see if you're the lucky one who gets to pack their bags for the trip. 
Beyond the Lights stars Gugu Mbatha-Raw as Noni, a pop star about to hit it big who risks everything for the chance at true love with the cop (Nate Parker) who saves her life. The film was directed by Gina Prince-Bythewood (Love & Basketball). Check out our interview with Prince-Bythewood below to hear her talk more about her inspirations for the film.
And don't forget to see Beyond the Lights, in theaters starting November 14!

(Photo: Suzanne Tenner/Blackbird Productions, LLC)