Most Americans Say Racial And Ethnic Discrimination Causes U.S. Political Divide: Poll
GOP-controlled legislatures have passed bills on diversity and other issues that impact the Black community.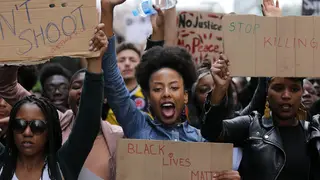 "Most of the American public points to unresolved racial issues as being central to our current political tensions," Patrick Murray, director of the independent Monmouth University Polling Institute, said. "There is hope that it will get better, but many people, particularly white Americans, are uneasy talking about these issues."
About 80 percent of the 981 American adults polled from May 18 to 23 said racial and ethnic discrimination is a problem in the United States. That high figure is consistent with previous Monmouth polls since 2020.
In the current poll, 61 percent said discrimination is a "big problem," compared to 76 percent when that number spiked one month after the murder of George Floyd in May of 2020.
It's perhaps unsurprising that people of color – including Blacks, Latinos and Asians – view discrimination as a big problem. 76 percent of people of color see discrimination as an issue, compared to 52 percent of non-Hispanic white Americans.
Political affiliation also made a difference. 85 percent of Democrats said that discrimination is a big problem, compared to just 31 percent of Republicans holding the same view.
Most of those polled (about 60 percent) blamed troublesome race relations for the nation's political hyper partisanship. 52 percent of respondents viewed race relations as "a major reason" for political divisions, and 9 percent said it is "the primary reason" for the political divide.
More than two-thirds of people of color, at 69 percent, viewed race as a primary or major cause of political division, while 57 percent of white shared that opinion.
The poll was taken as a wave of mostly Republican-controlled legislatures introduced or passed measures to end diversity, equity and inclusion (DEI) at state colleges and universities. In one of the most recent instances, Texas GOP Gov. Greg Abbott signed a bill on June 14 to rein in DEI programs, CNN reported.
A majority of people of color polled (58 percent) said that racial diversity and inclusion needs more attention, but just 28 percent of white Americans agreed.
How discrimination is discussed in schools and workplaces has emerged as another race-based culture war issue.
Florida Republican Gov. Ron DeSantis, a 2024 presidential candidate, has become a leader among conservatives in crafting a far-right policy agenda in the culture wars. His handiwork includes legislation dubbed the Stop W.O.K.E. Act, which would restrict how race is discussed in state schools, including universities, as well as in companies.
The poll found that white Americans are divided on that issue: 50 percent supported limiting how racial inequality topics are taught in schools and 45 percent would like more classroom lessons on those issues.
Still, most Americans say they are at least nominally optimistic about the future of race relations. The poll showed that 21 percent are very hopeful and 52 percent are somewhat hopeful.