Florida Gov. DeSantis Drops Proposed AP African American Studies Course For Florida High School Students
The state takes another step toward whitewashing historic racism.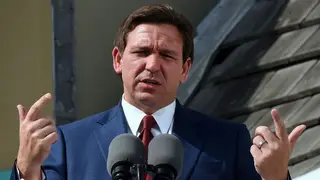 Florida Gov. Ron DeSantis is flexing his political muscle in a way that could bar the state's public school students from learning about Black history in their classrooms. His administration recently blocked a new Advanced Placement course on African American studies from being taught in high schools because it violates a state law that he shepherded through the state legislature.
The Associated Press reports that his education department sent a letter last week to the College Board, the nonprofit organization that oversees AP coursework, saying "the content of this course is inexplicably contrary to Florida law and significantly lacks educational value."
"In the future, should College Board be willing to come back to the table with lawful, historically accurate content, (the education department) will always be willing to reopen the discussion," the letter continued.
The letter neglected to identify exactly what content is objectionable, but legislation dubbed the "Stop WOKE Act'' that DeSantis signed into law last April offers a clue.
It restricts how race is discussed in public schools, colleges and workplaces. Among other things, it prohibits instruction that could make students feel responsibility or guilt for historic wrongs because of their race, gender or national origin.
DeSantis is one of several conservative politicians who have opposed Critical Race Theory (CRT), a college-level academic framework to analyze systemic racism, that  is not taught at elementary or secondary schools. The GOP used misinformation about it to stir up its political base for the 2022 midterm election.
The College Board released this statement to Inside Higher Ed: "Like all new AP courses, AP African American Studies is undergoing a rigorous, multi-year pilot phase, collecting feedback from teachers, students, scholars and policymakers.
"The process of piloting and revising course frameworks is a standard part of any new AP course, and frameworks often change significantly as a result. We will publicly release the updated course framework when it is completed and well before this class is widely available in American high schools. We look forward to bringing this rich and inspiring exploration of African-American history and culture to students across the country."
According to College Board's website, the course touches on literature, arts, humanities, political science, geography and science. It has been under development for more than a decade in collaboration with colleges, universities and secondary schools.
The pilot program is debuting at 60 schools across the country before it expands to additional schools. All schools can begin offering the course in the 2024-25 school year.
"AP African American Studies is not CRT. It's not the 1619 Project. It is a mainstream, rigorously vetted, academic approach to a vibrant field of study, one half a century old in the American academy, and much older, of course, in historically Black colleges and universities," Harvard professor Dr. Henry Louis Gates Jr. told Time last year when the pilot program was announced.
Marlon Williams-Clark, a social studies instructor at Florida State University schools, is teaching at one of 60 schools piloting the course.
"You can tell there is a thirst [students] have to obtain this knowledge. I think that this course will be the forerunner for other histories on...marginalized people," Williams-Clark told CBS News last year when the pilot program was announced.
CBS News asked him why it has taken so long to create an African American studies AP course  while the European history course has been offered for years.
"What we have to understand is that history is told from the perspective of the winner," he responded.