Why Brandy Was Reluctant To Accept Being Called The 'Vocal Bible'
"It came with a huge amount of pressure and expectation to be 100 percent," the R&B star shared in a new interview.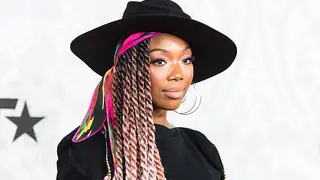 At the peak of her success in the 90s, R&B princess Brandy was a formidable presence in the entertainment industry across film, television, and music. Following the release of her 1994 multi-platinum self-titled debut album at just 15 years old, the singer-songwriter was bestowed with the nickname "The Vocal Bible" for her incredible talents.
Now, at 41, Brandy is gearing up to release her first album in over 7 year, B7, on July 31. However, in a new interview with Entertainment Weekly, she shared that it wasn't always easy for her to bear the title. She said she was "a little bit taken aback" by it at first.

"It came with a huge amount of pressure and expectation to be 100 percent. I got nervous because you just want to find yourself in your creativity and not care so much about being perfect all the time," she told the publication. "But I've dealt with all that and let it fester. Now I accept it graciously."

In retrospect, Brandy realized that "there are so many things [she's] proud" to have accomplished in her 25-year career, especially as a role model to so many Black women and girls. Even though the singer has had her ups and downs in the music business, she's grateful to hear her influence in today's R&B. 

"I was so caught up in my own dream that I didn't really know the kind of impact I was having on so many lives, especially the lives of Black women and Black girls." 

Brandy also opened up about recording music with her 18-year-old daughter, Sy'rai, for the first time for her forthcoming album on the track, "High Heels." Earlier this year, Sy'rai blew fans away with her tribute single, "At Your Best," dedicated to Aaliyah. "To see how quick she is, how passionate she is — I was just sitting there trying not to cry," Brandy told EW. "I had to keep my composure. But when I'm in my own space listening to this song, and it's just me and the music, I can scream and cry."

With this new album, Brandy said that she "was inspired to be more hands-on with this project because I was approaching it as if it could be my last time making music." 

Her longtime collaborator and mentor LaShawn Daniels was central to the experience. Tragically, the Grammy-winning singer-songwriter passed away after he was involved in a car accident last September in the midst of making B7.

"He was such a light," told EW. "He knew how to bring out the best in me. He always made me feel comfortable to dig deep outside of my comfort zone. And I listened. I just pray he's proud of what I was able to complete."

Read the rest of Brandy's profile in Entertainment Weekly here.