Lizzo Gets 'Emotional' Recalling Her Proposed Collaboration With Prince Before His Passing: "It Makes Me Sad Thinking And Talking About It"
The singer shared seeing Prince at Paisley Park with The Breakfast Club while promoting her album 'Special.'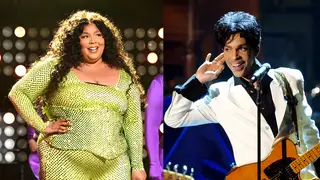 Did you know Lizzo and Prince almost worked on an EP together prior to the latter's passing?
In an interview with The Breakfast Club, the singer gets emotional and recalls seeing Prince perform at Paisley Park.
"God it makes me so sad thinking and talking about it," she said.
"I got invited to Paisley Park last minute to see Prince perform on piano. "It was one of the most amazing concerts, and then he did 'Purple Rain,'" she shared. "And when he was performing 'Purple Rain' he started getting emotional and started crying towards the end."
When asked what the supposed EP would've sounded like, the 'Special' singer shared she still has the emails from the collaboration and would think he would want her to get "weird."
"I think he wanted me to get weird with it, but you know, we'll never know [and] that makes me sad," she shared.
She continued in the interview, sharing how the 'Purple Rain' artist would tell magazines she was next.
"That was such a big deal to me," she expressed.
"I do a lot of things to make Prince proud."
You can watch the full interview below: