Ne-Yo's Wife Crystal Renay Has Something to Say About His Ex on Instagram
She clapped back at a rude comment on social media.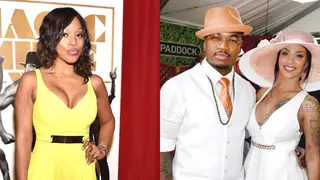 Ne-Yo's wife, Crystal Renay, and his ex, Monyetta Shaw, have been known to put their drama on social media — particularly after Shaw gave a lengthy interview spilling the tea on her relationship with the R&B singer. Last month, Monyetta shaded her ex and his new wife, and accused him of essentially deceiving her into having her tubes tied because he didn't want any more kids just a couple of years before he welcomed a baby with Renay.
Well, it seems like despite Crystal's issues with Monyetta, she's willing to stick up for her husband's ex in the face of an internet troll who made a rude comment about Monyetta's reproductive system.
After Crystal posted a sweet picture of herself with her baby on Instagram, one of her followers left a comment saying, "AWWW CUTIE THE BLESSING OF NOT GETTING UR #TUBESTIED."
Well, the feminist in Renay came out in full force and she was quick to put the fan in her place:
For all the internet beefs and ex drama out there, it's great to see women stick together when it really counts. 
Catch up on Crystal and Ne-Yo's growing family with BET Breaks, above.