Guess How Many Christian Louboutins Cardi B Actually Owns
Plus 11 more "bloody" shoes she needs in her closet!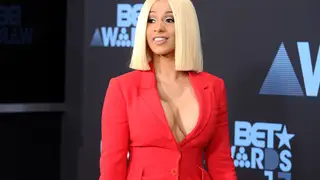 The moment is finally here. We now know how many "bloody" shoes Cardi B has in her wardrobe. It's insane.
Cardi's stylist Kollin Carter revealed the rapper's obsession with Louboutins in an interview with Billboard and revealed that she owns over 90 pairs! Geesh, they probably cost more than our annual salaries but it's cool.
"Where she's from, when girls are ready to get dressed up, that's what you wear. And in real life, before 'Bodak' blew up, she wore red bottoms because that's what it means to make it in the Bronx."
According to the interview, the "Bodak Yellow" artist buys "a pair or two every couple of weeks." At this rate, she'll have the entire Louboutin collection. Perhaps she'll expand to handbags? It's all good, though, Cardi. We are here for your red bottom archive. See the next round of styles we think Cardi should add to her closet!
Dovi Dova – $1,095

Louis Flat – $2,995

Arletta – $2,395

Classe Hot – $1,495

Douce Du Desert – $895

Roxxxy Strass – $5,995

Fabiola – $2,395

Fishnut – $1,295

So Kate – $695

Gypsandal – $1,045

Escarpic – $1,095