Charlotte FC Soccer Player Anton Walkes Dead In Boating Accident
The defender was found unconscious after two boats collided in Miami.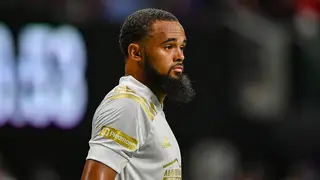 Major League Soccer player Anton Walkes of the Charlotte FC franchise died Thursday (Jan. 19) morning after an accident in South Florida, a statement from the team announced. He was 25 years old.
"Everyone at Tepper Sports & Entertainment is devastated by the tragic passing of Anton Walkes. He was a tremendous son, father, partner and teammate whose joyous approach to life touched everyone he met," Charlotte FC owner David Tepper said.
Walkes was found unconscious about 3 p.m. Wednesday after two boats collided on waters near Miami Marine Stadium, The Miami Herald reported. Miami Fire Rescue personnel performed CPR on Walkes before transporting him in critical condition to a hospital.
Charlotte FC team members were in the South Florida area for a 12-day training camp that began on Jan. 9 ahead of the 2023 MLS preseason, The Charlotte Observer reported.
Walkes turned pro in 2016 through the Tottenham Hotspur's youth academy. He played just one match for the Premier League London team before joining Portsmouth where he played 66 games. The England native left the U.K. to play permanently for Atlanta United in 2020 after a previous stint on loan with Atlanta in 2017.
Charlotte selected Walkes in the 2021 MLS Expansion Draft and incorporated him into the team's inaugural season as a center back.
Walkes' former teams expressed condolences on social media for the rising star.
There was also an outpouring of love for Walkes from fans who gathered for a vigil outside the east gate of Bank of America Stadium in Charlotte.
"Anton made those around him better people in all areas of life and represented Charlotte FC to the highest standard both on and off the pitch,"  Tepper said. "He will be greatly missed by many and our thoughts and prayers are with Anton's family during this heartbreaking time. The Club offers its full support to all those impacted during this period of mourning."