Black Music Month: 10 Songs That Defined The Early 2000s
DMX, Alicia Keys, Usher and more.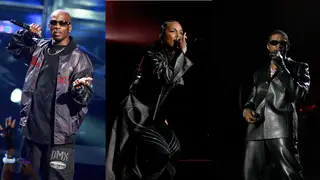 The early 2000s brought a massive change to the music industry: iPods, downloads and the rise of YouTube views. From DMX to Alicia Keys, these artists defined this era of music. In honor of Black Music Month, here are ten songs that are unforgettable..
"Thong Song" — Sisqo (2000)

The second single from Unleash the Dragon, Sisqó struck gold with "Thong Song." This Tim & Bob-produced track took on a life of its own, separate from the artist who created it. The legendary video remained a Total Request Live staple, featuring Sisqó flying over women in bikinis and  the genius addition of lush violins. The song  earned Sisqó four Grammy nominations, peaking at #3 on the Billboard Hot 100.

"Bootylicious" — Destiny's Child (2001)

The release of Destiny's Child third album, Survivor, and hits like "Bootylicious" proved that no one could stop these icons-in-the-making. Sampling Stevie Nicks' "Edge of Seventeen" (who also appears in the video), the lyrics were inspired by media reports about group lead Beyoncé's perceived weight gain. In response, Queen Bey, partnering with Rob Fusari and Falonte Moore, wrote a song so popular that the term "bootylicious"  made its way into  the Oxford Dictionary. The track hit No. 1 on Billboard's Hot 100,

"Get Busy" — Sean Paul (2002)

In the early 2000s, Sean Paul offered a refreshing take on the blend of hip-hop and riddim that would soon infiltrate pop radio. The first single from Dutty Rock, "Get Busy" would make Paul one of Diwali Riddim's biggest names globally. The song topped the Billboard Hot 100 and was even performed on Saturday Night Live. 

"Crazy in Love" — Beyonce featuring Jay Z (2003)

This legendary debut and its accompanying video featuring Beyonce's future hit hard. With The Chi-Lites' "Are You My Woman (Tell Me So)" serving as the basis for "Crazy in Love's" legendary hook and chorus, Bey made music history. The  song was ranked at No. 118 on Rolling Stone's Greatest Songs of All Time list and was named by the outlet as the Greatest Song of the 21st Century. "Crazy" won two Grammy awards, peaked at No. 1 on the  Billboard Hot 100, spawned a memorable performance at the BET Awards.

"Yeah!" — Usher Featuring Ludacris and Lil Jon (2004)

"Yeah!"m produced by Lil Jon and featuring Ludacris, incorporated crunk and R&B in a way that changed the musical landscape. Released as the lead single from Usher's diamond-certified album Confessions, "Yeah!" won Best Rap/Sung Collaboration at the Grammys, was certified platinum, topped Billboard's Hot 100, and was ranked No. 1 for Best Songs of 2004 by Time magazine.

"We Belong Together" — Mariah Carey (2005)


Mariah Carey's "We Belong Together" is a classic ballad of a woman's missing her long-lost lover. Remaining at No. 1 on Billboard Hot 100 for 14 weeks, the hit broke several airplay records, garnering the largest one-day and one-week audiences in history.

"Crank That (Soulja Boy)" — Soulja Boy (2007)

In a decade where dances such as Swag Surf and Chicken Noodle Soup defined the culture, it was "Crank That (Soulja Boy)" that would dominate and become a worldwide phenomenon. Considered the biggest dance fad since the Macarena after the video amassed 27 million views by 2008, the track spent seven weeks at No. 1 on the Billboard Hot 100 and was nominated for a Grammy. It was also the first song to sell three million digital copies.

"A Milli" — Lil' Wayne (2008)

His second official single from Tha Carter III, "A Milli," followed the success of "Lollipop" and remained a hard-knocking street anthem that Lil Wayne completed in just one take. Winning the Grammy for Best Rap Solo Performance, the song peaked at No. 6 on the Billboard Hot 100, with Rolling Stone ranking it the 10th Best Song of 2008 and the  63rd Best Song of the 2000s.

Alicia Keys - "Fallin'" (2001)

"Fallin'" is Alicia's signature song for a reason. Highlighted by beautiful bridge harmonies and Alicia's perfect balance of love and pain, it introduced one of the most promising new R&B talents in a generation. The song grabbed three Grammys, including Song of the Year.

"Party Up (Up in Here)" — DMX (2000)

DMX became one of hip-hop's reigning kings in the late '90s, noted for his driving lyrics and New York swag. While his career has spawned many anthems,"Party Up (Up in Here)" was a classic. Produced by musical partner Swizz Beatz, "Party Up" is known globally as DMX's most successful song. The song was nominated for a Grammy and remains the late artist's most successful single in the U.S.