Megan Thee Stallion Taking A Mini Hiatus
The Houston Hottie shared a tweet on her social media that she will be taking a break.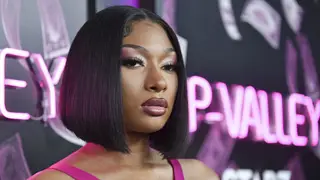 Megan Thee Stallion is taking a break to recoup after pulling double-duty as a host and musical guest on Saturday Night Live as well as recovering from her L.A. home being burglarized while she was in New York.
The Traumazine rapper headed to her Twitter to share that she was going to be flying under the radar for a little bit.
"Hotties im really sorry but after SNL I really gotta take a break I'm so tired, physically and emotionally," she wrote.
And when it comes to the 27-year-old's home being broken into, Deadline reports that between $300K - $400K of jewelry and other items were stolen. Police shared that two men allegedly broke a glass door in the back of the home to gain entry during the burglary that took place on Thursday night (Oct. 13).
As for the Houston Hotties SNL's appearance, during her opening monologue the artist talked about finishing her college degree while pursuing her rap career and launching her mental health website, Bad Bitches Have Bad Days Too.
During her musical guest performance, Meg performed her song "Anxiety" and fought back tears during the verse that referenced the loss of her mother.