LL Cool J Collaborates With Eminem, T.I. for G.O.A.T. 2
"It's about the beats and the bars and the rhymes," he says.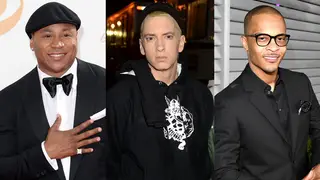 Fourteen albums in, and there's still a first time for everything.
LL Cool J recently took to the underground media (you know, the Internet) to announce details of his next album, G.O.A.T. 2, and he revealed that he's teaming up with the likes of Eminem — something he's never done before — and T.I. for guest features.
"Me and Em have a song," LL told Rap-Up. "He recently just let me hear his verse and it's crazy. He's chainsawing s**t. It's good. I think people are going to be pleasantly surprised when they hear me and him on a record together."
His other songs are just as "crazy," he added. "It's super hard," he said of the track with T.I. "I think people are gonna bug out on [it]."
Bronx-bred XXL Freshman Fred the Godson is also among his collabs. "I got a lot of young gunners on this album — a lot of real hot young gunners, people that are hungry and want to make the best music. It's about the beats and the bars and the rhymes," said LL. "It's about being current and fresh and riveting — not a bunch of old tired '95 nugget ring bulls**t. It's newness."
LL dropped the original G.O.A.T. around the turn of the millennium, in September 2000. "To miss out on this G.O.A.T. 2 album I think would be a travesty for hip hop," he said. "You can't miss this s**t." His most recent release, last year's Authentic, which featured the likes of Earth, Wind & Fire and Eddie Van Halen, "was a legacy record. This is about the culture now, and I think people are gonna love it."
Click here to win a trip to the Super Bowl Gospel Celebration in Phoenix, plus four tickets to the Big Game. 
BET.com is your No. 1 source for Black celebrity news, photos, exclusive videos and all the latest in the world of hip hop and R&B music.
Click here to subscribe to our newsletter.
(Photos from left: Jason Merritt/Getty Images, Jeff Kravitz/FilmMagic for YouTube, Jason Merritt/Getty Images for MAXIM)