Tyler Perry Says 'Every Available Resource Will Be Used' To Find Who Killed Clarence Avant's Wife
"My heart breaks for Clarence and Nicole and all the Avant family," Perry said on Twitter.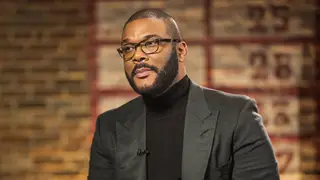 Tyler Perry is committed to helping find the person who tragically killed Jacqueline Avant, the wife of legendary music executive Clarence Avant, the "Black Godfather."
According to the Los Angeles Times, Jaqueline was shot in her Beverly Hills home on Wednesday (Dec. 1). She was taken to Cedars-Sinai Hospital where she later died. She was 81.
"My heart breaks for Clarence and Nicole and all the Avant family," Perry said on Twitter. "This world can be so cruel and cold!! I have no idea what kind of sub-human could shoot an 81 year old woman, and in her own home.
"But you can rest assured that every available resource will be used to find whoever is responsible for this awful nightmare. This is tremendously sad."
During a brief news conference following the incident, Beverly Hills Police Chief Mark Stainbrook declined to go into full details on what occurred at the Avant residence. But noted that Clarence Avant and a security guard were home at the time of the attack, but no one else was injured. The suspect or suspects, still remain at large.
"The motives in this case are still unknown, and we're investigating all possible motives," Stainbrook shared. "We will not speculate on anything that's out there, including if this was a robbery attempt or not."
BET previously reported that Jacqueline Avant has been a prominent Los Angeles philanthropist over the decades, perhaps most notably for her work with the UCLA International Student Center, the L.A. Times reports. She is also the mother-in-law of Netflix CEO Ted Sarandos.
Clarence Avant, 90, often called the "Godfather of Black Music," was inducted into the Rock & Roll Hall of Fame in 2021 and was the subject of the Netflix documentary The Black Godfather, produced by daughter Nicole Avant.
The doc portrays Clarence's life from being connected to Louis Armstrong's longtime manager Joe Glaser, to his connection to Al Capone who helped launch his career.