SMH: This Video Of Tekashi 6ix9ine Violently Stomping Out A Fan Onstage Will Make You Cringe
He can explain...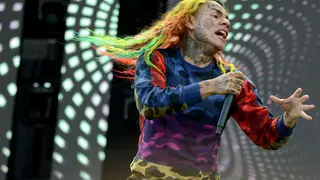 A (non) fan took the matters of solving one of hip-hop's millennial problems, Tekashi 6ix9ine, into his own hands by rushing the Brooklyn rapper on stage during his performance in Russia.
Fortunately for 6ix9ine, the stage crasher didn't get too far before the security team served him a multi-man beatdown for the entire crowd to see. Footage of the incident shows 6ix9ine joining in on the stage skirmish, too. But after witnessing the violent stage exchange, some fans are raising questions about Tekashi and his security personnel's brutal response to what could possibly have just been an over-excited 6ix9ine fan.
In the video, the fan enters from the side of the stage and strong arms Tekashi, nearly flipping his entire body backward

6ix9ine quickly recovers and runs over to the man, who has now toppled to the ground among security. He pounds down punches on the man, before another angle of the video (presumably taken from someone backstage) shows at least three to four men stomping the stage crasher out. 

Afterward, the "FEFE" rapper said the beatdown was not only justified, but necessary

Especially, considering what happened to his late friend and slain Miami hip-hop star, XXXTentacion back in June 2017. He recollected X's incident on Instagram Live where he further elaborated on what happened in the stage stomp-out.  

"You remember the video when n**gas ran on stage when X was performing, and tried to knock him out?" he said. "Well, the nigga tried to do some bozo sh** like that…" After all, he clarified, he wouldn't anyone to think he was just attacking overzealous fans out of the blue.

Allow him to explain in the clip below.