Cardi B Believes Jay-Z's Influence Could Land Colin Kaepernick On An NFL Team
She also thinks Hov has possibly already discussed Kaep as a part of his new deal with the organization.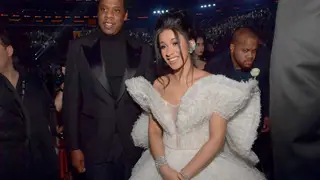 Ever since Jay-Z inked a deal with the NFL to be the league's new live music entertainment strategist and advisor surrounding "social justice" issues, many criticized him, particularly because it appears to betray Colin Kaepernick's kneeling protests and subsequent career sacrifice.
But some are coming to the rapper and businessman's defense, claiming if anyone could help the NFL with its troubled history of racism and censorship, it'd be him. Cardi B is one of several celebs who has faith in Hov.
TMZ recently caught up with the Bronx rapper and asked her about the NFL partnership. She says Jay could be the person to help get Colin Kaepernick a roster spot.
"I think that he can make a change," Cardi said. "I don't think he went [in] on an NFL deal without an agreement… I feel like he went in there like, 'Alright, if y'all want me to work with y'all, y'all need to bring my peoples in there.'
"I feel like Jay-Z could bring back Colin Kaepernick," Cardi added. "I feel so. I feel like he has that power… I feel like Jay-Z could do it."
Jay's collaboration will reportedly be an effort to "enhance the NFL's live game experiences and to amplify the league's social justice efforts," according to a league statement. It has also been rumored that Jay-Z is positioning himself into becoming a majority owner of an unnamed NFL team. He would become the first Black person to be a majority owner if it ever happens.
Killer Mike is another outspoken voice in support of Jay-Z's partnership with the NFL. During his appearance on Real Time With Bill Maher, the Atlanta native took a stance similar to Cardi B's.
"Jay-Z is one of us that made it out the streets, made it in the rooms, and he did what he could when he should," Mike stated, citing Jay's many actions in support of the Black community, including his six-year Grammy boycott. "Jay-Z's play, I believe, not only gives us a seat at the table. It doesn't destroy what Kap knelt for."