Ginni Thomas Agrees To Interview With Jan. 6 House Committee
The wife of Supreme Court Justice Clarence Thomas has supported Trump's efforts to overturn the 2020 presidential election.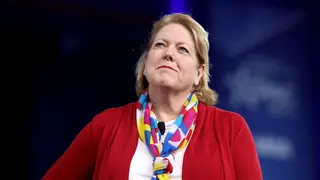 Conservative activist Virginia "Ginni" Thomas, wife of U.S. Supreme Court Justice Clarence Thomas, has agreed to an interview with the House select committee leading the probe into the deadly Jan. 6 attack on the Capitol.
Thomas' attorney, Mark Paoletta, confirmed her voluntary participation with the committee's investigation to CNN.
"As she has said from the outset, Mrs. Thomas is eager to answer the Committee's questions to clear up any misconceptions about her work relating to the 2020 election. She looks forward to that opportunity," Paoletta said in a statement to the news outlet.
The committee did not immediately release details about how it will conduct the interview. NPR reports that committee members suggested that it might be held behind closed doors. The panel is expected to hold its last public hearing on Sept. 28, so they could possibly speak with her after that date.
According to The New York Times, the committee, led by Rep. Bennie Thompson (D-MS) and GOP Rep. Liz Cheney (R-WY), requested an interview with Thomas in June.
The revelation of her text message exchanges with Donald Trump's White House Chief of Staff Mark Meadows prompted the request. In those messages, she encouraged the Trump team to continue its efforts to challenge then President-elect Joe Biden's 2020 election victory.
The committee is particularly interested in finding out more about Thomas' communications with attorney John Eastman, who urged then-Vice President Mike Pence to reject or delay the Congressional certification of the Electoral College votes.
Committee members have at least one email between Thomas and Eastman after a federal judge ordered Eastman to turn over documents related to the investigation.