Dr. Dre Explains Why He 'Bowed Out' Of Working With Superstars Like Michael Jackson, Prince And Stevie Wonder
The legendary producer said he's 'better with rookies.'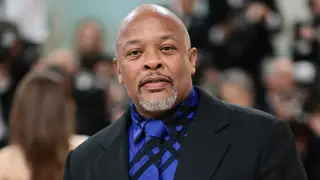 Dr. Dre sat down with Kevin Hart for Season 3, Episode 3 of the Heart to Hart  podcast and revealed that he turned down opportunities to work with some of the most iconic artists in the history of music.
Dre told Hart that he "bowed out a couple of times" from working with Prince and Michael Jackson. A stunned Hart asked, "both of them?"
The legendary producer confirmed, "Yea. yeah. They just asked me to work with them and I was just like, "What the f**k am I going to do with them?" He explained to Hart that he enjoys working with lesser-known artists where there is more room to shape and mold their sound versus a superstar artist with a proven track record.
'What the f**k am I going to do with them? Those are my heroes,' he reiterated.
'But you're Dr. Dre," Hart said.
'Stop, stop,' Dre said, before revealing that he turned down another legend, "Most recently, Stevie Wonder," leaving the comedian and show host shocked.
"My entire life and career has been dealing with and working with new artists. That's what I like," Dre said. "Nobody comes in with an agenda . These mother f**kers show up on time."
He likened himself to a master sculptor saying, "It's a ball of clay when they walk in the room. You can just form it and do what you want. That's what I want. Everybody else, especially my heroes, they're coming in and there's a set plan as to how the s**t should sound," he added. "I can't explore."
The producer has had a hand in shaping several legendary careers including Eminem and Snoop Dogg. He says he prefers to work with new artists.
"I like the way I feel about Stevie, Prince, Michael, Bruce Springsteen, and all of these  amazing artists. I like the way I feel about them, and that could change by working with them." The 7-time Grammy winner said, "These are my heroes. I like the idea of what I grew up listening to [them], and I want to keep it like that. I don't want to f**k up that idea and that look."
Dre and Hart delved deep into the producer's prolific career, the evolution of hip-hop and his music methodology on the lengthy interview streaming now on Peacock.