Black National Guards Called To Capitol Pause To Take Striking Photo With Rosa Parks Statue
Over 20,000 will be deployed to Washington, D.C. in time for the inauguration.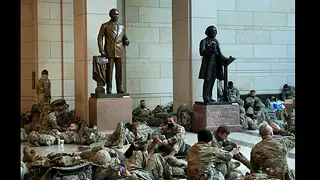 National Guard members have been deployed to state capitols all over the country after FBI reports of armed, violent protests. However, a group of Black National Guards deployed to protect the Capitol building in Washington, D.C. decided to honor their history by pausing for a striking photo standing in front of a statue dedicated to the late Rosa Parks. 
According to Business Insider, the group took the photo in the National Statuary Hall of the Capitol, a poignant reminder of the sacrifice these troops are making today juxtaposed by the sacrifice Parks once made during the Civil Rights movement.
On Dec. 1, 1955, Rosa Parks refused to give up her seat to a white passenger on a Montgomery, Alamba bus and was arrested. Her courageous stand against racial injustice sparked a 381-day boycott of the Montgomery bus system and led to a 1956 Supreme Court decision banning segregation on public transportation.
See the photo of the guardsmen and the Parks statue below:
Over 10,000 guardsmen have been sent to the D.C area after the Jan.6 violent attack on the Capitol by Trump supporters. Internet chatter indicates the protesters plan to "storm" state, local and federal government courthouses and administrative buildings if Trump is removed from office before Inauguration Day.
The protestors will reportedly also "storm" government offices in every state the day President-elect Joe Biden is inaugurated "regardless of whether the states certified electoral votes for Biden or Trump," according to ABC News.
Federal law enforcement officials are advising police agencies to increase their presence at state houses all over the country.
Encouraged by President Trump's baseless claims of massive voter fraud that cost him the 2020 election, a mob of domestic terrorists was determined to stop Biden from becoming certified as president-elect on Jan. 6. Nonetheless, Congress certified Biden's win just after 3:40 a.m. on Jan. 7.
Five people died during the siege.
President Trump has been largely criticized for inciting the violence for weeks by complaining that the 2020 presidential election was rigged. After multiple lawsuits in several states, his legal team lost countless cases by failing to provide any evidence of massive voter fraud that would overturn the election.  
On Jan. 13, the House of Representatives, including ten Republicans, voted to impeach Trump for the second time. This instance was for inciting an insurrection at the Capitol.