Orlando Brown Blasts Raven-Symoné in Bizarre Instagram Videos
He clears up some rumors about his That's So Raven co-star.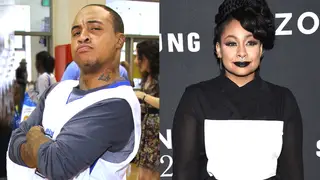 That's So Raven star Orlando Brown seems to be in a bad place. After he was arrested last week for allegedly beating on his girlfriend in a police station parking lot and then charged with possession when cops found methamphetamine on him in his jail cell, Brown has been posting a series of bizarre videos to Instagram.
On Friday, Brown posted an odd video declaring his innocence of the charges, and the latest ones take aim at his That's So Raven co-star Raven-Symoné. "Yo man," he begins the clip. "Raven did not bail me out, my wife did. Raven ain't even tryin' to talk to me right now. She think I stole her damn phone. I ain't a crackhead!"
In a second clip, he pretends to eat a bunch of hundred dollar bills to prove he isn't broke. "I'm still spending Major Payne money. I ain't touched a 'That's So Raven' check yet! Wealthy forever!" he captioned the video:
TMZ broke the news that Orlando physically attacked his girlfriend last month. To make matters worse, it was also reported that police discovered methamphetamine on his person during the arrest. He's since been charged with misdemeanor domestic battery, obstruction of justice, drug possession with intent to sell and having contraband in jail.
According to Hip Hollywood, on Thursday morning, the actor took to the 'Gram to say that he's innocent: "Right when I find peace of mind, TMZ stays its 'ridiculing time'.... so 'allegedly' I beat my women up.. And walked into Torrance jail with 'Kristal Meth' [sic] on me," he wrote. "Brace yourselves for this one ... 'The devil is a lie I feel him breathing' Kanye said it best ... Its [sic] ok thoe [sic] ... Be sure to watch TMZ ... This is an interesting one ... Even to me! Real talk! Blessings!!! Mr. Brown!"
He followed this post with another featuring the woman he allegedly assaulted. Both posts have since been deleted and his account has been switched to private.
Fans seem concerned about the former Disney star's bizarre behavior and are speculating about what kind of drugs he's on in the comments. Hopefully Orlando will get it together soon.
By comparison, Raven's antics seem pretty tame. Watch the BET Breaks video below to catch up on her latest:
BET.com is your No. 1 source for Black celebrity news, photos, exclusive videos and all the latest in the world of hip hop and R&B music. 
(Photos from left: EB / Splash News, Dimitrios Kambouris/Getty Images)