Disgusting! Here's Why Wal-Mart Insurers Don't Think Tracy Morgan Deserved His Accident Settlement
The situation continues to get uglier.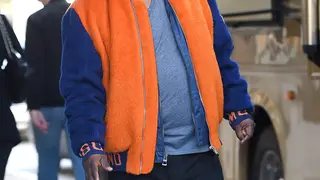 While the horrific car crash that left Tracy Morgan severely injured and another passenger dead has seen a sliver of positivity in the comedian's recovery, the situation has recently taken another ugly turn with the legal battle between Wal-Mart and its insurers.
While Wal-Mart paid up a rumored $90 million after one of their drivers crashed into the limo which was carrying the 30 Rock actor and several other passengers, the insurers are now claiming that the retail giant overpaid to save face.
According the Daily Mail, the documents filed by the insurers state that the "exorbitant" settlements should not be covered by them, because there is "no coverage to the extent which these settlements were paid to avoid adverse publicity."
Continuing to allege that Wal-Mart's excessive payment was a ploy to avoid bad publicity, they added that the amount the chain paid to both Morgan and his co-passengers was excessive in comparison to the actual injuries he experienced. They also claim that Wal-Mart failed to sufficiently assess investigations into Morgan's health before settling.
"Within weeks of Wal-Mart settling with Morgan, Morgan was seen driving one of the most powerful sports cars in midtown Manhattan, driving without any difficulty and clearly showing he was enjoying himself," the documents read. "Wal-Mart would have learned that Morgan was capable of doing these things had it done an adequate and reasonable investigation before settling."
The horrific crash, which took the life of Morgan's friend James McNair and injured three others, caused the star to suffer a traumatic brain injury and several fractures.
Watch Tracy talk about surviving the crash in the video above.