Soul Train Awards 2022: These Burna Boy Tracks Will Liven Up Any Sunday Brunch
What's your favorite song from the Grammy Award-winning Afrobeats star?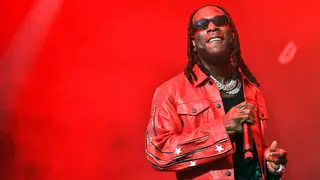 The Soul Train Awards 2022 is days away, and we can't wait to celebrate the sounds of soul and r&b with some of the biggest names in the genre and several rising stars who should be on your radar and favorite playlists.
Ahead of this year's ceremony, hosted by the funny Deon Cole, we're shining the light on several of our nominees and their contributions to the industry. Afrobeats star Burna Boy has been delivering some of the hottest tracks influenced by his African pride. We've danced to these outstanding records at various gatherings, and in honor of this year's event, here are three Burna Boy tracks to liven up any party.
'Ye'

"Ye" appeared on Burna Boy's third studio album, Outside, in 2019. A combination of kicks, piano synths, and a few snares with the singer's powerful voice layered in harmony on this uptempo beat garnered the star much success. In an article, a writer for Native magazine wrote that "Ye" was being viewed as a modern-day anthem because it "embraces the anathema of every self-interest seeking seemingly good-natured Nigerian."

'Wonderful'

Burna Boy is proud of his culture and often sings, praises, and uplifts his community in song. "Wonderful" is, as in its name, a fantastic example. As the lead single from his fifth studio album, Twice as Tall, singing his love for his people and all they have accomplished.

'Last Last'

The Afrobeat star released this massive single last May from his album Love, Damini. The track samples the 2000 classic "He Wasn't Man Enough" by legendary singer and songwriter Toni Braxton. Burna not only co-wrote the popular record but directed the music video as well. The song peaked at the number one spot on Billboard's Afrobeats Songs chart.

'On The Low'

Burna boy fuses afrobeat and dancehall influences for this mid-tempo record, "On The Low," from his 2019 studio album African Giant. The song is influenced by Magic System's classic 2002 hit "1er Gaou".

'It's Plenty'

TikTok users have been going crazy over Burna Boy's latest release, "It's Plenty," from his sixth studio album, Love Damini.

The Soul Train Awards 2022 premieres Saturday, November 26 at 8 pm ET/PT on BET and BET Her.