Wazzup! 5 Times Hip-Hop's Greatest Rappers Made Cameos On 'Martin'
"Martin" was doing it for the culture 30 years ago.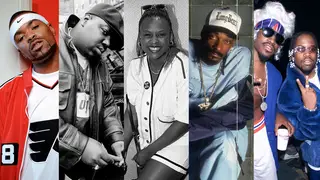 One of the reasons Martin became such a massive hit for Fox is that it spoke directly to an audience that few other shows at the time did: Black viewers who loved hip-hop music and culture. Martin not only infused the series with nods to hip-hop through slang (Wazzuuup!) and colorful fashions of the day, Martin brought rap heroes directly into viewers' living rooms.
Especially since hip-hop culture was still so underrepresented in the mainstream (despite already being a multi-million dollar global business at the time), Martin was revolutionary for giving young, Black rap stars their flowers when few other mainstream media outlets would. With the show's 30-year reunion special on BET Plus just around the corner, it's a good time to remember five unforgettable times "Martin" brought the world's best emcees to the screen.
Snoop Dogg
"No Love Lost" Season 2, Episode 25 - 1994
OutKast
"All Player's Came" Season 3, Episode 18 - 1995
OutKast was still pretty new in 1995, but since the episode revolved around Martin hosting a 1970s-style Player's Ball––right at the time OutKast's debut single, "Player's Ball," was heating up the charts––it was only right the "Stankonia" homies come through and represent.
Yo-Yo
(multiple episodes), 1993 - 1995
While Martin did a great job giving hot male rappers a cameo, it wasn't so great at making sure the ladies got as much shine. One exception was Yo-Yo, the West Coast rapper who rose to prominence as fellow West Coast emcees like Snoop and Ice Cube were becoming household names. Yo-Yo appeared in four episodes throughout the series, playing Keylolo, the homegirl of Sheneneh (Lawrence). If Sheneneh was hilarious on her own, the two of them together were hysterical.
Method Man
"You Play Too Much" Season 5, Episode 12 - 1997
The Notorious B.I.G
"Baby, Baby Blow," Season 4, Episode 3 - 1995
Saving the best to celebrate greatness, Martin's most iconic rapper cameo is without a doubt the time Big Poppa, a.k.a. Biggie Smalls, a.k.a The Notorious B.I.G, showed up in an episode in 1995. In the episode, Biggie stops in Detroit, and when word gets out in the street, everybody and their momma try to audition for him. Like almost every Martin episode, "Blow, Baby Blow" turns over-the-top hilarious when people make complete fools of themselves trying to get Biggie's attention, including Gina and Pam.