Kerry Washington Reveals Her Dad Is Not Her Biological Father In New Memoir 'Thicker Than Water'
Kerry Washington Reveals Her Dad Is Not Her Biological Father In New Memoir 'Thicker Than Water'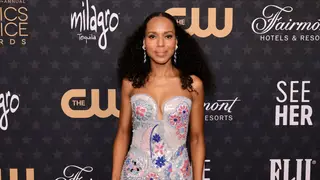 Kerry Washington is on a soul-stirring journey of self-discovery after discovering her dad is not who she thought he was.
On Tuesday (September 26), the actor will release her new memoir Thicker Than Water, where she will unlock the truth about her life, dating back to when she found out her father, Earl Washington, is not her birth father.
She told PEOPLE, "It really turned my world upside down."
The secret behind her birth was revealed after she began preparing to appear on an episode of Henry Louis Gates Jr.'s Finding Your Roots on PBS. After telling her parents about her upcoming appearance, they approached Gates, who suggested families have confidential conversations before production.
Following their counsel with Gates, her dad, and mom, Valerie, held a private discussion with Kerry in 2018 to confess the truth. During that meeting, she learned they had experienced fertility complications and chose to use an anonymous sperm donor to conceive; they then formed a pact never to tell her.
"When I got this information, I was like, 'Oh. I now know my story,'" Kerry told the outlet. For her, she had always felt that her parents were hiding things from her.
"I didn't know what my story was, but I was playing the supporting character in their story,' she explained.
For her, this book has been the key to understanding who she is, inside and out.
While she admits, "My parents were not thrilled about me writing this," Kerry noted, "This is really kind of me working to understand my life up until now, given this new information that I have that, in many ways, felt like sort of the missing puzzle piece."
Ahead of the book's release, she said her relationship with her parents has led her to develop a more profound sense of gratitude for them.
"I really started to have so much more love and compassion and understanding for my parents," she noted. "Taking this deep dive into our family history made me put myself in their shoes and think about the things that they've had to navigate and what they've been through and what they've sacrificed. And it really made me feel closer to them."